The question is, having determined the need to move, have you the ability to move?
Organizational Calcification Is Difficult to Perceive
Organizational calcification is an internal force as powerful as the pressures gathering strength in your external world. It is hard to see because its causes and effects are multidimensional as well as incremental along each dimension. When the need to move becomes extremely urgent -- when a discontinuity is experienced -- organizational calcification can be fatal. It is therefore vital to monitor calcification and to arrest and ideally reverse it before it becomes an insurmountable obstacle.
Answers to the following diagnostic questions and their related measurements will give you a metric for calcification in your company. Again, the information is useful only if answers are honestly provided.
Organizational Calcification Questions: The Ability to Move
1) Determine over time, and in comparison with your traditional and nontraditional competitors:

the ratio of production and/or service providers to total employment;

the ratio of salespeople to total employment;

the ratio of production, service providers and salespeople to total employment.
2) Calculate sales and profit per employee. Compare these ratios to the past in your company and to your "leanest" traditional competitor and leanest similar company.
3) What is your ratio of forced turnover over the last five years? What is the ratio of voluntary turnover in the last five years? What is the ratio of selected professional and managerial applicants who turn you down?
4) For each year for the past five years, determine the ratio of those managers predisposed to agree with your current approach to those managers predisposed to challenge it.
5) What is the ratio of experienced people hired from outside over the past five years?
6) What is the experience distribution for all employees, direct supervisors of production or customer service personnel, production and customer service providers and salespeople? Compare this distribution to five years ago.
7) What is the trend in the speed of:

making standard decisions;

new product development;

order cycle fulfillment;

other business processes (e.g., credit checks, capital budget authorizations, marketing program formulation and implementation).
8) How much top management time is spent:

visiting customers (the users and buyers of the product, not just customer top management, who do not directly choose or use the product);

making calls in the field with salespeople;

sitting down with customer service representatives and other front-line customer response people;

getting out to the plant, store or other operating sites without protection from other senior executives.
9) Rate all your direct reports and the next level of managers on loyalty and competence using a 1-to-10 scale. (See Exhibit XI.)
Exhibit XI
The Loyalty-Competence Matrix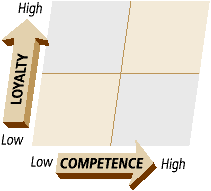 The Ability to Move: Actions
If your organization is overemployed, over-"staffed" and overloaded with loyalists, and your managers are not out where it counts, your ability to move will be a 1 or a 2 on a scale of 1 to 10. The organization has become dangerously incapable of anticipating or responding to pressures from outside. Further, when the "need to move" is a 10, and the "ability to move" is a 1 or a 2, crisis looms. (See Exhibit XII.) In either case, we recommend the following actions, which are listed and then discussed:
1) Tie employee growth to the lesser of sales or profit growth.
2) Outplace poor-performing employees in the bottom tenth of the organization.
3) Outplace people who are more loyal than competent.
4) Increase staff hiring more slowly than total employee growth, so that the ratio of line employees (who actually sell, service and produce) to staff employees gets bigger.
5) Hire and maintain a critical mass of those who constructively challenge the current business design.