The time when a customer is moving from one segment to another is particularly important.

Change comes in steps, rather than evenly and gradually over time.

Evolutionary changes are predictable for groups of customers, but predictions require careful consideration of the internal economics, objectives and politics of customers and potential customers.
How Segments Evolve New Segments
Corporate leaders must look forward: What new customer segment is being created? How do you address this new segment's needs? If customers are constantly changing, how can you retain them? The most successful companies have learned how to adapt their market approach to take advantage of market change.
Consider one market as an example. Chemical companies such as Amoco, Tenneco Packaging, Formosa and others sell wraps, food-service utensils and Styrofoam containers to wholesale distributors such as Bunzl, Kraft, Sysco, Northeastern Bag, Marstan and thousands of smaller distributors. Distributors, in turn, sell to schools, institutions, restaurants, office buildings and smaller supermarkets. Initially, most distributors were small or medium-sized family-owned enterprises, with family members holding key positions and younger relatives positioned as heirs-apparent. However, the economic driver in this business is cost, and larger entities can purchase supplies more cheaply from manufacturers through volume discounts. This leaves small independent wholesalers with four choices:

combine with other distributors to become a "super independent."

sell out to national operators like Bunzl or Sysco.

join a buying group, with different levels of autonomy, like Resourcenet or Unisource.

remain independent and hope for the best.
Each of these options represents a customer segment for vendors like Amoco or Tenneco -- and which option a distributor chooses is key to the marketing approach that is needed. A national wholesaler, such as Bunzl, is more price-oriented and centralized in its purchasing choices. Independents, by contrast, stress service, credit and relationships with manufacturers. Thus, a vendor faces a very different selling environment and set of price pressures depending on the distributor.
The timing and likelihood of a distributor moving from one segment (e.g., independent) to another (e.g., part of a national company) depend on a number of factors, many of which are observable to vendors. For instance, competitive pressure led one distributor to sell out recently in the Philadelphia market. But because of the desire to hand over the business to next-generation family members, another distributor there chose instead to remain independent and joined a buying group. Note how this choice is dichotomous: once in a buying group, a distributor is less likely to sell out because it can now buy at lower costs. Similarly, once a distributor is part of a larger company, there is no need to join a buying group. (See Exhibit III.)
Exhibit III
Evolutionary Segmentation of Plastics Distributors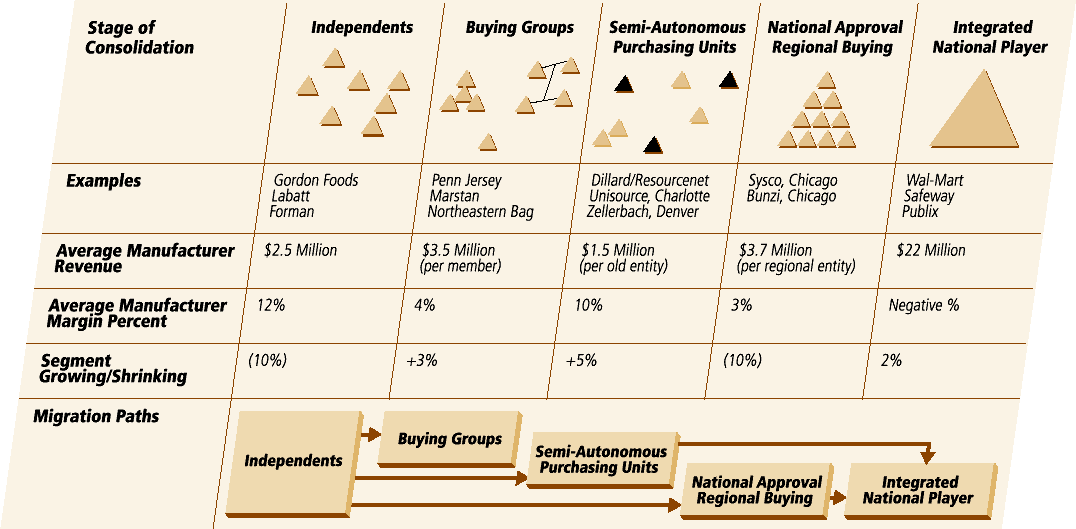 Source: Booz-Allen & Hamilton
Manufacturers can leverage an understanding of the evolution of this business in a number of ways. Those selling to independent distributors can look for signals that their customers may jump to new segment categories, e.g., family members drifting out of the business may signal a potential buyout. In that case, the next step is for the vendor to cultivate a relationship with the company's future decision-makers at a national distributor's headquarters, or elsewhere. The key point is that the time to win or lose an account is before and during the time a distributor makes a segment change -- this is when contracts and buying procedures are up for grabs.
Vendors to markets undergoing change need to try to anticipate their customers' evolutionary drivers and consequent actions. This requires an understanding of the mind-sets of consumers, or of what is going on within corporate customers. The data processing/data communications field provides an important and illuminating case study of the value of understanding how customers change, and how segments evolve over time.