A Case Study with Five Steps: Data Communications Equipment
The orientation of business data users is evolving from mainframes to personal computers. This evolution is not gradual, however. There are five distinct phases that companies can pass through, each of which represents a segment for data communications vendors. Some users may pass through a few stages, while others go through all five.
The first phase, which everyone began with a few years ago, is a mainframe-only approach, featuring a central Management Information Systems (MIS) department that controls all purchasing and deployment of computers. This is the Hierarchical Proprietary stage.
Many companies next experience a radical policy and power shift in information management: the end users of the computers decide to buy PC's, minicomputers and other equipment, bypassing the MIS department. Inevitably, after buying the computers, the end users try to connect (or "network") these devices, so they begin to lease lines and set up networks that are also independent of the MIS department. For instance, at one bank, United States Trust, the MIS department conducted a survey a few years ago and was surprised to discover that more than 230 networks had been set up by end-user departments. This phase is called Mixed Architecture.
The next phase is an organizational response to the chaos produced by such mixing and matching. Companies form an independent central telecommunications department, or utility, that tries to regain financial control and reduce costs. It does that through the consolidation of purchasing and the physical consolidation of networks. This is called the Independent Telecom Department phase.
In the fourth stage, coming after a period of perhaps several years, companies integrate telecommunications and computing again within the MIS department. The new arrangement typically allows end users greater access to information, which is now kept in large corporate data bases administered by MIS. To access these large data bases, high-capacity data networks are created to allow users in remote locations to pull down large files through a corporate "Internet" and work on them on-site(2)
For instance, the pharmaceutical manufacturer Merck & Company allows "mission critical" staff, like researchers, to pull huge molecular models out of data repositories, downloading the material to their work stations. This phase is called Mission Internet.
The last stage is either an alternative or a successor to the fourth stage. Instead of giving over the corporate data bases to the MIS department to place in a few large repositories oriented to the most important end users, the company adopts an architecture to allow all end users to access any data they need. This means throwing out a lot of obsolete equipment, and introducing a homogeneous infrastructure in which all the components can interact, or "talk," with one another. This is technologically quite complex.(3)
To pay for the new equipment, and endorse the technological risk of this architecture, non-MIS business leaders must be intimately involved and convinced of the need for the expenditure. Thus, the new power structure is a close partnership between MIS and functional departments. This stage sees departmental computer specialists stripped of some of their autonomy as a cohesive new approach to purchasing and technology takes hold. This final stage is called Integrated Computing. (See Exhibit IV for an overview of all five stages.)
Exhibit IV
Data Communications User Segments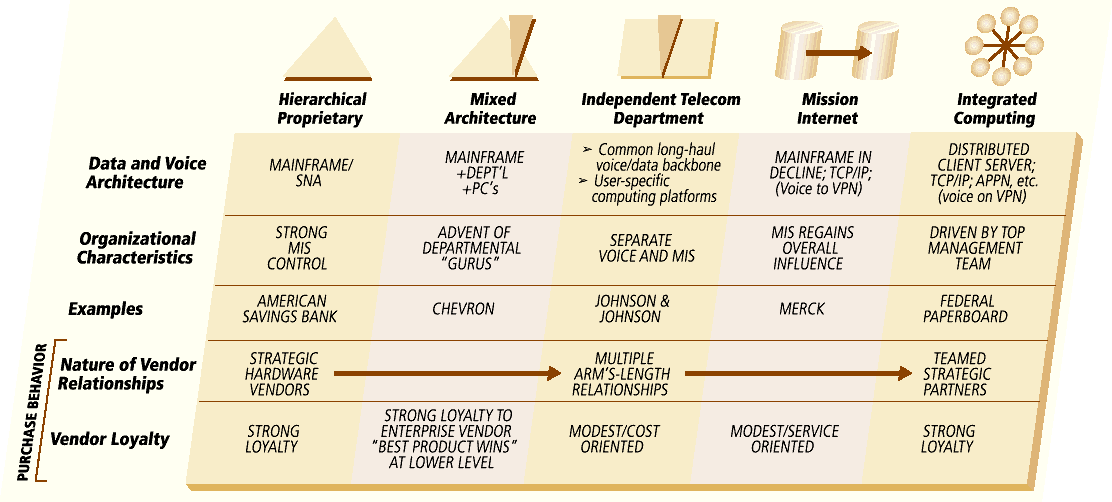 Source: Booz-Allen & Hamilton
Evolutionary Logic Chain
The initial shift from the monolithic architecture of the first stage sets in motion forces that inevitably propel a company up the evolutionary chain, link by link.
The predominantly technical orientation and multiplicity of networks in the second stage is expensive -- sometimes accounting for more than 10 percent of a company's total cost base. This provokes management to reduce costs. Thus, many companies cede control back to MIS or to a newly created independent telecom department. Which route they choose depends on whether management can agree on a common architecture. It also depends on whether MIS has managed to develop the flexibility and responsiveness that initially caused end users to take on the job of buying the equipment themselves.