But because the new telecommunications department often has a strong focus on minimizing costs, there is usually less focus on innovation. This resistance to new technologies, many of which would benefit line operations, causes line managers to look for alternatives to the "penny pinching'' telecom people. This pushes the company to move to the next evolutionary change, in which dissatisfied end users are wooed by a new, more enlightened MIS department. Business managers looking for new capabilities, and MIS managers looking for greater architectural consistency, drive department heads to integrate the telecommunications/data processing infrastructure and make it more forward-looking. This pushes them into phases four or five.
The choice of whether to move to Mission Internet or Integrated Computing depends on the company's business requirements and opportunities.
If its overall return on investment is high, then the company will most likely choose elegant and uniform data base architectures. This was the case at Morgan Stanley, the investment bank, and at Federal Paperboard, the specialty manufacturer, which both had ample cash to invest in internal information technology. Typically, this architecture is administered by MIS but oversight is by MIS and senior line managers, vice president and above, who are intimately involved in funding choices and alternatives.
Conversely, many larger enterprises with a lower return on investment cannot afford to replace the existing hodgepodge with a clean new data architecture, which usually requires all new software and often a major makeover in hardware. In that case, line managers hand over the problem to MIS. That is what happened at the Chrysler Corporation and other large manufacturers.
The strong internal logic of the evolution drives buying behavior. In the move from the Hierarchical Proprietary stage, departmental computer specialists seek immediate solutions to interconnection requirements. Thus the performance of equipment and ease of use are key. In the move to the Independent Telecom Department phase, cost and centralized control features play a more important role. In the shift to Integrated Computing, the focus is on the ability of equipment and vendors to perform smoothly in conjunction with software packages and to innovate to meet end-user needs.
To highlight how different these requirements are, note that a low-cost bidder is likely to win only in selling to the centralized telecom department. Thus, it would be foolish to deeply discount pricing in bidding in the other two environments. Vendors must understand this logic (low cost, high capabilities, etc.) in order to preserve margins and service different segments. This requires an overall road map of segments and potential migration paths. (See Exhibit V.)
Exhibit V
Data Communications Evolution
.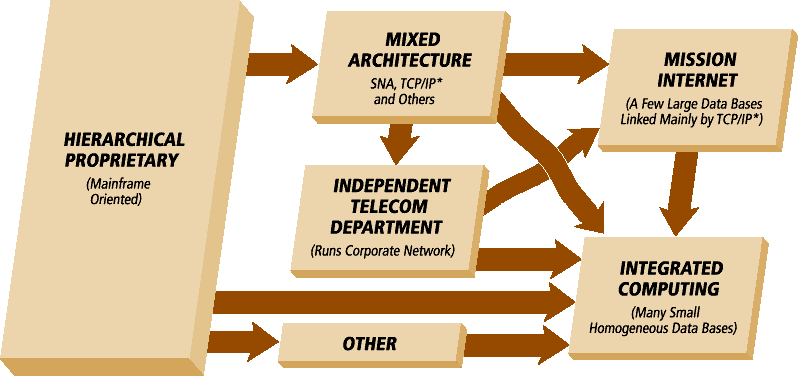 * TCP/IP is a data architecture defined by the International Standards Organization, which is oriented to distributed data architectures such as personal computers. It is the standard used on the Internet.
Source: Booz-Allen & Hamilton
Why Isn't Evolutionary Segmentation Used More Often?
Although most industries appear to evolve in a coherent fashion as managers adapt to the same technological, social, financial and regulatory changes, corporate strategists rarely exploit this fact. Planners routinely identify "key industry trends" on an annual basis, but do not always tie these trends to business plans and targets when analyzing market opportunities. For analysis, planners often revert to more limited but safe and convenient segmentation categories such as Standard Industry Classification (SIC) codes or customer size.(4)
Edward Teller, the co-inventor of the hydrogen bomb, once remarked that the reason the bomb had not been invented sooner was that no one was aware that it could be made.(5) Similarly, a major reason most managers do not employ an understanding of industry evolution is that they are not aware it can be done.