Second, the authors offer a wealth of practical advice for companies that aspire to be disruptive and grow by overturning the established leadership in their industry. For example:
Look for new-market opportunities for your disruptive technology that are distant from established customers, as when Sony popularized transistors as a replacement for vacuum tubes not in the core desktop radio market but rather in the wholly new application of handheld portables for teenagers.
Distribute your disruptive technology through channels that see a disruptive opportunity to increase their margins. Honda did this by selling motorcycles through power equipment and sporting goods retailers (rather than motorcycle dealers), Sony did it by distributing its portable radios through discount stores (not appliance stores), and Johnson & Johnson did it by marketing angioplasty to cardiologists (not to the cardiac surgeons who perform bypass operations).
When you're deciding which operations to keep in-house, focus on what you will need to master in the future in order to excel at delivering improvements that customers will consider important — don't worry about the core competencies that have served well in the past. Vertically integrate in the early stages when product functionality and reliability aren't good enough to address customer needs, and look toward modularity and de-integration to reduce costs once customer needs are fully met.
Finally, Christensen and Raynor speculate about a new value-chain dynamic that creates opportunities for insightful companies, whether or not they intend to be disruptive competitors. They hypothesize that there is a law of conservation of profits, much like the law of conservation of energy in physics: When profits are drained from one part of a value chain because the needs of customers are fully met, opportunities for differentiation and profitability are created elsewhere. For example, they argue, when PCs didn't fully meet customer needs, Apple Computer was able to earn great profitability with its significantly more user-friendly Macintosh computers, whose usability was made possible through the integration of computer manufacture and operating system. Once PCs exceeded the needs of most users, Apple's profitability declined, the modular Wintel architecture dominated, and new not-yet-good-enough opportunities blossomed for Intel in microprocessors and Microsoft in the operating system. If this hypothetical law of conservation of profits turns out to be valid, then the popular tactic of mapping an industry's profit pools and targeting the stages of value added where profits are made today will prove to be an extraordinarily poor strategy. Companies that position themselves at a spot in the value chain where performance is not yet good enough will capture extraordinary profits.
The Innovator's Solution offers a definitive guide to growth for companies that intend to disrupt their industries, not only startups but also established companies. Christensen and Raynor explain why startups can successfully disrupt an industry more easily than established competitors. They catalog many of the organizational and cultural problems that established companies face, and they offer a few possible solutions. However, the book offers little for companies that don't aim to be disruptive competitors. Although it warns them what to look out for, it has little advice about how to grow.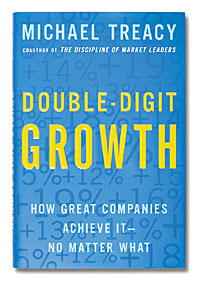 Growing the Core Business
Michael Treacy's Double-Digit Growth: How Great Companies Achieve It — No Matter What (Portfolio, 2003) is a perfect complement. For established companies, Treacy provides a street-smart, entertaining, easy-to-understand handbook, enlivened by a cornucopia of positive and negative examples. Treacy argues that the companies that sustain rapid growth are masters of several (at least three) of five growth disciplines:
Penetrating existing customers more deeply
Taking business from competitors
Targeting rapidly growing segments
Invading adjacent markets
Entering new lines of business
Although these five disciplines aren't surprising, they make up a very useful framework for managing growth that is heavily weighted toward expansion of the core business, which is the best source of profitable growth for most established companies.