Coordinating Stakeholders
But what about realizing value from those innovations that businesses choose to pursue themselves? Bhaskar Chakravorti, in The Slow Pace of Fast Change, focuses on the challenges that arise after innovations go out the door. Chakravorti describes a complex network of interconnected parties that need to be coordinated for an innovation to succeed. These parties are stakeholders in the status quo. They have arrived at their positions by rational choices intended to maximize their self-interests. This ecosystem includes competitors and partners, customers and vendors. To introduce an innovation, one must coordinate a move away from the current market environment and then recoordinate the group in the creation of a new set of market relationships that reinforce the innovation's success. This harks back to Hargadon's lessons about collectives inventing and communities embracing.
Chakravorti's book presents a cerebral approach to the topic. He employs game theory, explaining how companies can choose from among a set of strategies that move toward the end game with due consideration for the many independent choices that others will make in their own self-interest. This process is recursive, with each choice dynamically affecting every other.
Chakravorti argues that by concentrating on those end games that plausibly serve the common self-interests of the various constituencies, you can negotiate a path to success. Focus is critical, since resources are ultimately limited — especially for startups. Finding points of leverage to help move the various decision makers toward the desired new alignment of businesses and customers is also paramount. You won't be able to convince everyone. Who is necessary to the result? And why would it be in their interest to go there?
The networks of ideas, talent, businesses, and stakeholders envisioned by these authors make up a whirlwind of opportunities for technology brokers and open innovators. Armed with these insights, among others, I was ready to delve into two new tales of remarkable creativity and invention that happen to reinforce the theories presented in the Chesbrough, Chakravorti, and Hargadon books.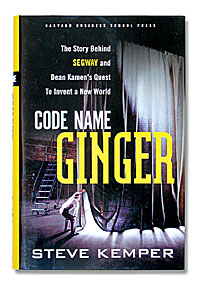 I started with Code Name Ginger: The Story Behind Segway and Dean Kamen's Quest to Invent a New World (Harvard Business School Press, 2003), by Steve Kemper.
Kemper follows the early days of the Segway, the self-balancing scooterlike device invented by Dean Kamen. Interestingly, much of the hype related to the Segway started with a leak about Kemper's attempts to peddle this manuscript. (In the interests of full disclosure: Kemper even includes me in a cameo appearance because I informally advised on this project. Caveat emptor.)
To tell a good story, an author has to settle on a point of view. The reader should never expect the "whole" truth. Kemper favors the perspective of the inventor and his team. That is not to say that Kemper does not train his critical eye on Kamen from time to time. Indeed, for his indiscretions Kemper is eventually tossed out of Kamen's paradise of innovation prior to the Segway's launch. But before he is expelled, we are treated to a page-turner.
Kamen is revered in the press as a modern-day Edison. Hargadon points out that Edison was more of a synthesizer than a free-form inventor. Kemper paints Kamen in much the same way.
The Scooter as Metaphor
True to Hargadon's and Chesbrough's theses, the creation of the Segway borrows from what has come before and feeds off the small worlds that have already birthed efficient motors and gyros and batteries. The brilliance of the Segway is in Kamen's searing vision and the development team's tireless creativity. As if concurring, Kamen admits at one point, "I don't have to invent anything. It's out there somewhere if I can just find it and integrate it."