Many executives at Enron and other companies that ran aground in the recent wave of corporate scandals were fervent evangelists for the power of markets. It turns out that even their failure has created a market — one for business-scandal books. These have begun arriving in bookstores, and there are a lot of them. Whether the marketplace embraces these books, and whether it justifies the publication of so many, remains to be seen.
But a more interesting question should be asked in the context of the marketplace of ideas: Do these books go beyond simply rehashing the past to teach lessons that readers can put to use in the future? A valuable scandal book would offer a plausible explanation of why the scandal happened. Even now, this is not so easy to do.
Happily, a couple of this year's offerings do have real value, drawing memorable insights from a period in business history that many would prefer to forget.
Speaking broadly, the recent scandal books offer three theories for what went wrong. The simplest (and the one that's been the most widely embraced) might be referred to as Villain Theory: A handful of very bad people willfully perverted the system. Another could be called Wicked Synergy: Larger and more diverse companies were sucked into, and corrupted by, the failures and problems of unsound upstarts in the wider business world. Finally, there is a theory that could be summarized as Deadly Rationality. This suggests that certain individuals, or even entire company cultures, came to behave in ways they believed, by logic or by rationale, would lead to legitimate success — but instead ended in radical failure. This is the most subtle, but also the most useful, theory. Its central lesson is, in a sense, a warning.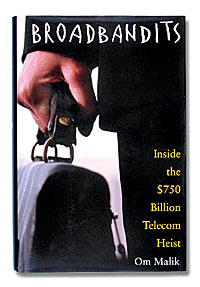 Snake Oil
Villain Theory drives Om Malik's Broadbandits: Inside the $750 Billion Telecom Heist (John Wiley & Sons, 2003), a spunky, noisy, and self-righteous book about the collapse of the telecom sector, filled with phrases like "Ponzi scheme," "snake oil salesman," and "partner in slime." The organizing device is the rogues gallery, one chapter per disgraced company or fallen guru, which, if nothing else, makes the book a handy overview — and a test case for the utility of chalking up the scandal era to a handful of consistently bad actors.
To distinguish his story from an earlier clutch of books about the dot-com bubble, Malik tells us that the telecom bubble was much bigger — the biggest "in the history of the modern world." In truth, the two were fundamentally intertwined. Malik, a former writer for Red Herring and now a writer for Business 2.0, points to the "myth," widely circulated in the late 1990s, that Internet traffic was "doubling every 100 days" — a supposed trend that sparked the creation of what is today a massive oversupply of data-transporting "pipes." Of the 105 million miles of optical fiber in the United States installed from 1980 through 2001, more than 80 million miles were built after 1995.
Time and again, the moment of reckoning comes when a firm realizes that demand is slowing and quarterly projections will not be met. Time and again, the problem is solved in the accounting department. Most of the time, Malik seems to believe that the "broadbandits" knew their promise was false but hyped their firms to drive up share prices. Gary Winnick, for instance, signed on as the CEO of Global Crossing not long before it went public in mid-1998. At the time, "demand for bandwidth had grown at breakneck speed," Malik concedes, but would soon show signs of a glut; the firm forged ahead with an 85,000-mile fiber network that is today "largely unused," and filed for bankruptcy protection in early 2002. Winnick had by then sold $735 million worth of stock. Variations of this tale play out in chapters on Qwest, WorldCom, and so on.