Such considerations as labor contracts, planned divestitures, willingness and ability to partner with suppliers or customers, government regulations, tax and duty implications, and other factors will shape decisions about how to restructure a manufacturing network. In Europe, for example, severance costs are often so high that closing plants to relocate production may be uneconomical. But even within the constraints, improvements are often possible: for example, rebalancing which products are assigned to which locations.
Manufacturing technology choices may also affect, or even drive, the decision of where and how to manufacture (see Exhibit 2). A major Japanese automaker's worldwide production scheme relies on manufacturing process decisions and technology to build flexibility into the overall network and to be able to move volume around on the basis of changes in demand. Standardization of tooling and manufacturing processes is an important element in the firm's strategy. Such standardization not only improves delivery performance and cuts development time, but also reduces production costs and total network investment requirements.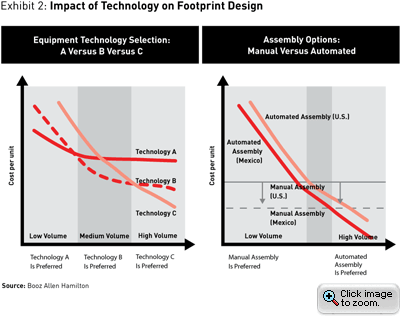 • Evaluate alternatives. Once the supply chain economics and the constraints are clear, it is possible to define the "ideal" network for the entire value chain and test it in several realistic but varied scenarios. For one of our clients, an analysis of the value chain revealed that supply base location was a more important factor than either logistics or labor. Even much lower internal production costs in a low-wage location can sometimes be outweighed by higher inbound logistics and quality costs if a capable local supply base does not exist.
In addition, companies that move abroad naively may cut themselves off from information, efficiencies, and the relationships available only to industry participants clustered closely in a region. Well-known examples of such industry clusters include the automobile industry in Detroit for most of the last century, Silicon Valley in the 1990s, and the pharmaceutical industry in New Jersey today. India's Bangalore or China's Shenzhen are examples of low-cost areas that have a critical mass of commercial and industrialized activity and offer an increasingly capable supply base — as well as qualified people to do the work.
The cost of complexity is yet another important consideration. Some companies mistakenly decide to always manufacture low-volume, high-complexity products in high-wage locations, but send high-volume, low-complexity products offshore. Although this may be optimal in some situations, typically the low-volume, high-complexity parts are the most labor-intensive and therefore could benefit most from a move to a low-cost location, as long as that location has the necessary technical and manufacturing support expertise (see Exhibit 3).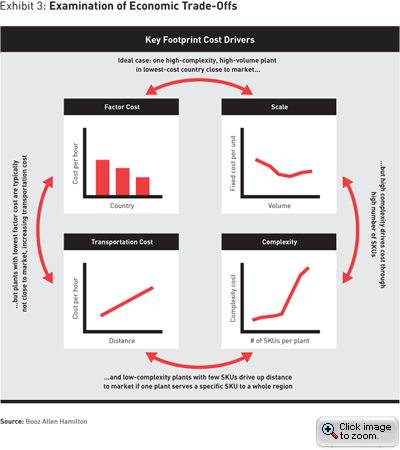 In evaluating different network scenarios, the total production and supply network, which is generally much broader than a company's manufacturing footprint, needs to be considered and optimized. Especially in cases where much of the manufacturing activity that creates the product's value is performed externally rather than in-house, it is necessary to consider and potentially restructure the supply base. To do this, a company takes a clean-sheet view of what capabilities are necessary from its suppliers and what target cost structure is imperative to design a more effective, typically much smaller, more capable supply base.
The scenario testing should be both quantitative and qualitative, and might use tools as simple as spreadsheets or as sophisticated as dedicated supply chain modeling software. Scenario analysis is important in order to avoid "incrementalism" — small changes to the status quo that typically create only minor improvement — and to generate innovative solutions. Any redesign of the manufacturing footprint should consider scale, capacity utilization, technology, and level of automation. Analyzing and potentially redefining existing system boundaries, which involves logically grouping material components of a product, is often beneficial, because this results in component clusters that better match supply base capabilities or enable streamlined flows to reduce cycle time, improve quality, and reduce such non-value-added tasks as duplicate material handling. The extent of a company's vertical integration should also be included in the evaluation.