Organizational health, in other words, is the ability to execute. Healthy companies get things done. Unhealthy companies do not. They stumble and, ultimately, stagnate.
Do these complaints sound familiar?
"Everyone agrees on a course of action, but nothing changes."

"There goes another opportunity while we wait for a decision."

"It's a great idea; it'll never happen."

"I'm either micromanaged or left holding the bag."

"The businesses and functions just aren't working together to get results."

"I don't feel motivated to go the extra mile. What's in it for me?"

"We have the right strategy and a clear implementation plan; we just can't seem to execute."
These are some of the symptoms of organizational disease and dysfunction. These are the counterproductive behaviors that undermine an organization's success and lead, ultimately, to its competitive marginalization.
The ability to execute, like health, is not something you can hire or mandate. It is inherent, embedded in the organization's "genes," and expressed in the thousands of individual decisions and actions that collectively constitute and define firm performance. The first step in resolving execution breakdowns is to understand how these inherent traits of an organization influence and, in some ways, even determine how each individual thinks and acts on the job. That behavior is what drives results.
As Exhibit 2 shows, less than a third of the 30,000 respondents who have completed surveys on www.orgdna.com report traits and behaviors consistent with a "healthy" profile. More than half the survey responses resulted in one of the four "unhealthy" profiles, Passive-Aggressive being by far the most prevalent. (For more detail on the Passive-Aggressive organization, see "Passive-Aggressive Predominates," below.) In other words, by a margin of nearly 2-to-1, respondents declared that their own organizations could not execute: Strategic and operational decisions were not quickly translated into action. Hence our most salient finding is a very simple and sobering one: Most organizations, by their own employees' admission, are sick.
---
Exhibit 2:
Unhealthy Profiles Outnumber Healthy Ones Almost 2-to-1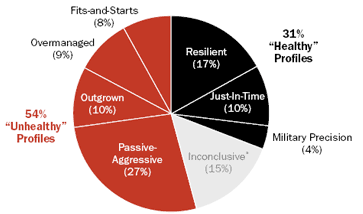 *Respondents who generated an "inconclusive" response reported traits and behaviors that either match multiple profiles or display uncommon patterns.
Source:
Org DNA ProfilerSM
data collected from
www.orgdna.com
, based on 30,000 responses; Booz Allen analysis
---
Some Countries Are Healthier Than Others
We began collecting data on respondents' location several months after launching the Web site. Since then, we have received more than 15,000 responses with complete information on location, which reveal significant differences across regions and countries.
Twice as many identified Europeans have taken the survey as identified Americans, and their responses, overall, tend to be much healthier. In fact, comparing the proportion of healthy profiles reported across countries with sufficient data (100 observations or more) shows every European country ranking higher than the United States. (See Exhibit 3.) What's more, this finding holds across all revenue segments and management/staff levels.
---
Exhibit 3:
Regional Distinctions in Organizational Health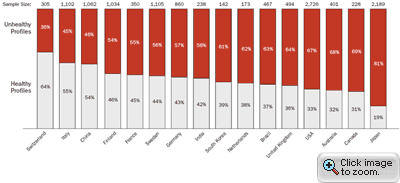 Source:
Org DNA ProfilerSM
data collected from
www.orgdna.com
, based on 12,958 responses; Booz Allen analysis
---
A second arresting finding is that China is one of the most robust nations when it comes to organizational health. More than half (54 percent) of all surveys completed in China resulted in a healthy profile, versus 31 percent in the overall sample (30,000 responses) and only 33 percent in the United States.
In fact, the United States is among the most unhealthy of organizational environments according to our data. Among countries with sufficient data, only Japan, Canada, and Australia fare worse.
Analyzing the question-level data further, three traits appear to be especially strongly correlated with organizational health among respondents from the United States. Among U.S. respondents generating "healthy" profiles: