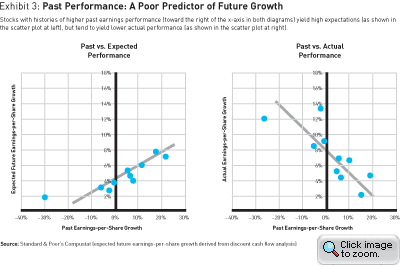 Letting the "Dogs" Out
How similar are the "market dogs" and "market stars" of stock analysis to the "dog" and "star" categories that corporate management might use in discussing business unit performance? Our experience and research suggest that they are similar enough that business decision makers can benefit from the analogy.
In our study of the stock market, for example, we looked at the average returns for market stars and dogs across two dimensions: whether the companies' operating margins had improved, and whether their sales had increased. These happen to be the two main levers that corporate decision makers use to try to improve their business units' valuations. The results are presented in Exhibit 4: Improvements in both categories can increase the annualized mean shareholder returns by only 9 percent for stars, compared with 15 percent for dogs.
To embrace this precept and use its insights effectively, management needs to rethink the potential for future shareholder value creation in the company's business units in a four-step process:
Mark each of the individual businesses to market (calculate a reasonable market value for it) using the market value of comparable enterprises. Evaluate their earnings performance on this market-value basis. Return on market value provides a better handicap for future value creation than backward-looking accounting measures because it incorporates the current mispricing into its calculation of true value.

Using the calculation of market-to-book as a basis, assign each business unit to a decile in the star-to-dog spectrum (as shown in Exhibit 1). This will provide an estimate of the expected market returns that will accrue to this business unit. Use this to assess the degree to which each business is currently mispriced.

Since future shareholder returns are based on changes in expectations of performance, assess the potential improvement for each business (as shown in Exhibit 4).

Estimate the future shareholder value creation of each business by evaluating both the degree to which it is currently mispriced and the opportunity to transform the business. Although it is easier said than done, the effort yields important insights.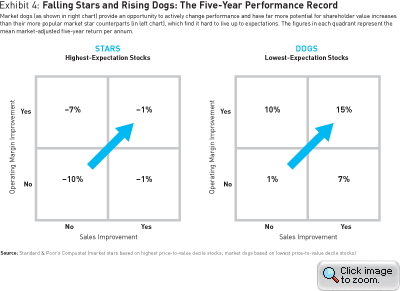 Viewing a company's businesses through a behavioral finance "lens" will ensure that management is making portfolio decisions that offer the greatest potential for long-term shareholder value creation. Automatically directing resources to businesses with the highest accounting returns, for example, may not be the best strategy. Selling your dogs may be counterproductive. Instead, resources should be allocated to those businesses that offer the greatest future increase in shareholder value.
There is thus large shareholder value creation potential for corporate management in exploiting the capital-market anomalies that the behavioral finance literature and our research have identified. When portfolio managers and other outside investors evaluate a company's stock, they are making implicit judgments about the value of the company's business units. Corporate management teams have better information than outsiders about both their own enterprise and their own industry. In addition, they have a longer time frame than most professional investors. Above all, senior executives have the ability to intervene and change the performance of their businesses. For executives willing to challenge the conventional corporate finance wisdom, behavioral finance can provide a more sophisticated framework for setting corporate strategy, a framework that will ultimately lead to higher share prices.

Reprint No. 06107
---
Harry Quarls ([email protected]) is a senior vice president in Booz Allen Hamilton's Dallas office. He specializes in strategy, corporate finance, and merger and acquisition issues for global companies across a variety of industries, particularly in the energy and utilities sectors. He has served as a member of Booz Allen Hamilton's Board of Directors.
---
Thomas Pernsteiner ([email protected]) is a vice president of Booz Allen Hamilton based in Cleveland. He has advised Fortune 500 clients in North America and Europe, assisting management in evaluating corporate portfolio and finance strategies, redesigning organizational models and processes, and restoring lagging businesses to profitability.