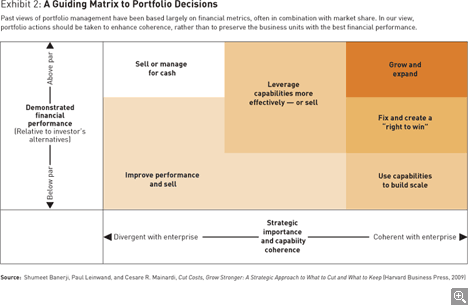 Over the years, capability coherence has been shown to correlate strikingly with corporate perfor­mance. For example, Booz & Company tracked the coherence of a variety of consumer products companies. (See Exhibit 3.) We found that companies that focused their portfolio on a few key capabilities delivered higher earnings before interest and taxes (EBIT) margins than those whose portfolios were less coherent. We have found the same sorts of correlations in other industries, such as automobiles and telecommunications. In the end, one of the most critical roles for senior executives is choosing which capabilities to invest in and providing the organization enough specific direction to follow through. This means building capabilities that are unique and synergistic, aligning the portfolio around those capa­bilities, and enacting an operating model that supports and leverages the capabilities that deserve the most support.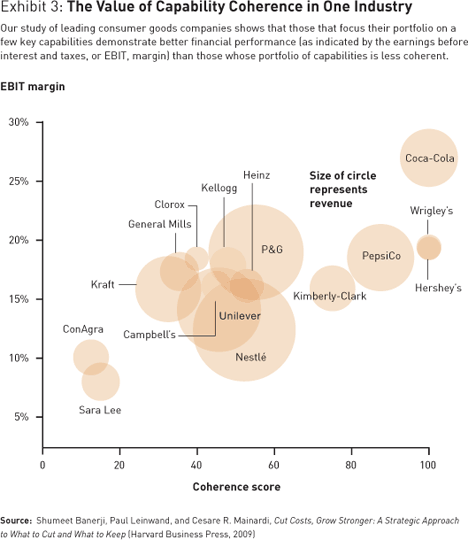 Providing this sort of consistent, reliable focus, is, of course, one of your own most im­portant capabilities. Releasing what isn't essential in difficult times will give you greater clarity of purpose, and will expand your critical capabilities for use in good times. Every day, that more accurate self-definition will ensure that every investment decision, every portfolio decision, and every operating decision reinforces the coherence of your strategy. Yes, that will help in terms of cutting costs. But it will help even more in overall strategy.
Indeed, just being armed with the clear objective of protecting and growing your company makes the pain of the next cost reduction a bit more palatable. And that will have an effect on people within the company. More of them will feel engaged, because they will recognize what the leadership is trying to do. As the com­pany's sense of purpose becomes clear, they will become optimistic again, and they may see opportunities where before they merely saw pressure. It won't hurt that they will see tangible results: Costs come out and stay out, and people are less likely to feel that their work is going to waste. Most important of all, the weight of the orga­nization is now balanced appropriately, propelling forward the capabilities that create your right to win.

Reprint No. 09501