The Dow Chemical Company bet its future on the acquisition of Rohm & Haas. Announced in July 2008, the deal was an audacious move; not only would it take all of Dow's financial resources to acquire this specialty chemicals maker, but it represented a fundamental shift in Dow's business model, one that challenged the prevailing assumptions of the industry. CEO Andrew Liveris used the word transformational to describe the US$18.8 billion all-cash deal: He said it would lower his company's reliance on low-margin, highly volatile, highly cyclical commodities and bring in specialty products whose differentiation offered global opportunities and higher margins.
This was not an ordinary M&A exercise; it was a dramatic strategic bet with life-or-death consequences for this venerable company founded in 1897. Many chief executives would have avoided this strategic bet, yet it was the kind of move that many companies must make in today's fast-changing business environment. Nonetheless, during the first few months after the announcement, it looked as if the deal might fall apart. Wall Street was dubious from the start, and financing was hard to come by. Dow had a long history as a dominant player in commodities. According to most industry analysts, the change in course was too great, the timing too abrupt, the chances of success too uncertain, and the price tag too high — even given Dow's solid balance sheet and industry prowess as the world leader in sales.
THE STRATEGY+BUSINESS COLLECTION: THE EXECUTIVE GUIDE TO STRATEGY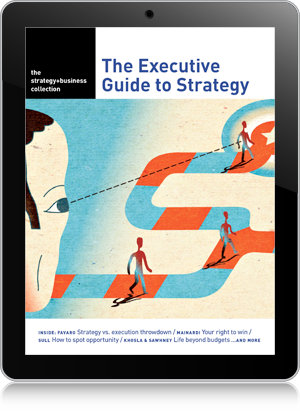 This article is featured in the strategy+business compendium "The Executive Guide to Strategy," designed exclusively for smartphones and tablets. The collection features our best thinking on creating and implementing the right strategy for your organization—with insights from top leaders including Capable Strategist author Ken Favaro, HBS Professor Cynthia Montgomery, strategy expert Ram Charan, and Kellogg School's Mohanbir Sawhney.
To download, select your device:
But Liveris had put together a meticulous plan over many months to pave the way for the deal. Now he met frequently with board members and institutional investors to win their support. They discussed how to finance the deal, what to divest, and whether the timing was right. There were setbacks. Several potential financial partners whom he sought as sources of capital turned him down. He persisted, and in December 2008, Dow signed a binding agreement for a joint venture with the Kuwaiti state-run Petrochemical Industries Company (PIC), which would infuse Dow with $9 billion to partly finance the Rohm & Haas acquisition and thus greatly reduce the risk involved.
The majority of large global corporations will probably have to make this sort of strategic bet sometime in the next 10 years. A number of companies are ahead of the curve, including some from emerging markets. Brazil's Vale, Mexico's Cemex, India's United Breweries, South Africa's SABMiller, and Luxembourg's ArcelorMittal have already become world leaders in their industries through strategic bets. Other companies, including major corporations from the U.S., Canada, Europe, and Japan, are facing big changes or maturity in their markets. They will, from time to time, find themselves forced into strategic bets as their best option for thriving in the future.
Some companies may have to make more than one strategic bet during the course of a decade — they may have to bet the company two or three times in succession. Their ability to recognize the need for a game-changing move, to seize the moment, and to execute the decision will be critical. To succeed, they will need to alter their whole framework for conceiving and shaping strategy. It behooves them to build the necessary mental and organizational resolve and fortitude in advance — and not wait until the moment of truth to find out whether they have it.