Some suppliers will undoubtedly benefit from the influx of new automakers in the U.S. market, particularly if the survey forecasts about Chinese entrants come to pass. But in mature markets like the U.S. or Europe, where there are more registered cars than licensed drivers, the possibility of substantially increasing domestic volume is not a viable path for growth. Instead, auto suppliers must learn how to enter other markets, including emerging economies. OEMs are increasingly looking for suppliers who can grow with them around the world. Scale matters in such an endeavor and suppliers may need to rethink their approach to consolidation. They may also need to develop the capabilities for M&A. Finally, most auto suppliers need to think carefully about their own distinctive capabilities: What can they do better than anybody else to create a unique place in the competitive landscape of this industry?
Where the Industry Goes Next
Among the more telling findings of the survey is a suggestion that the industry has missed an opportunity to fully address the structural weaknesses — for example, too much production chasing too few customers — that rendered it generally unable to hold its own in the worst of the recession. More than 50 percent of the OEM executives believe that overall, the auto industry is either in the same shape as it was in January 2009 or in worse shape; in fact, no respondent, automaker or supplier, said that the industry was in much better shape. (See Exhibit 6.)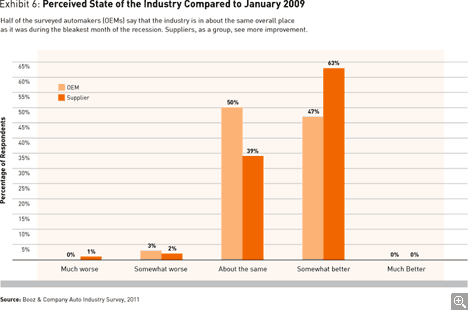 Where do OEMs and suppliers go from here? Respondents laid out a series of priorities for automakers and suppliers that include instilling greater discipline in pricing and production as well as emphasizing vehicle quality. (See Exhibit 7.) And stepping back to look beyond the survey, drawing on our experience and on interviews with several respondents, we formed some further conclusions about the best path for each of them to take. OEMs and suppliers face two different sets of priorities.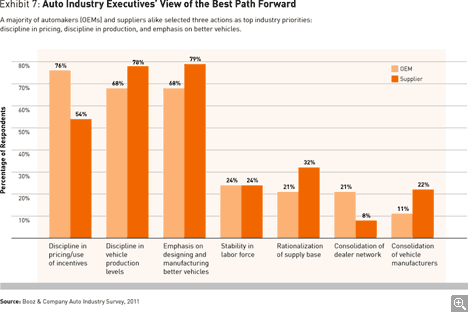 The automakers must:
1. Focus even more intensely on building attractive vehicles and rebuilding brands. Cars and trucks are still among the most visible, emotional purchases consumers make. In the current environment of frugality and practicality, U.S. car buyers need to be given reasons to "fall in love" again. They also want to reconnect with heritage brands that hark back to simpler times.
2. Create vehicles with exciting design and styling; superior quality, reliability, and durability (QRD); and technological innovation. Although the QRD of vehicles sold in the U.S. is better than ever, there are still meaningful gaps between the highest-ranked companies and the rest of the pack, especially in longer-term reliability and durability. In addition, new opportunities exist to deliver significant and differentiated value with breakthrough innovations in power-train technologies, safety technologies, and "smart car" systems (the use of sensors and wireless to connect vehicles, avoid collisions, and manage traffic flow).
3. Create product portfolios and development systems in which each vehicle produces a positive return on investment. The strategy of counting on a few blockbusters (namely larger vehicles) to generate most of the portfolio's returns is no longer sustainable in a more competitive and smaller U.S. market.
4. Continue minimizing material and structural costs, and do so faster and more effectively than key competitors. Automakers need to build and deploy capabilities to bring new technology to market more cost-effectively, thereby earning fair returns for their product innovations.
5. Prepare for a more globally competitive landscape. All signs indicate that the U.S. market will become more crowded over the next decade with competitors that are early adopters of advanced technologies and that have better cost structures and greater experience in emerging market segments.