Shopper attitudes have also changed. Consumers who are truly loyal to a brand don't care how large the company is that provides it, and companies with just one or two brands are often more adept at providing the kinds of products (and supporting services and functions, including customer engagement) that draw people in for a lifetime.
To be sure, the size and breadth of a company are still critical for CPG companies in developing markets, including India, China, eastern Europe, Latin America, and the Middle East. There, the near-term advantage is to the swift, because emerging-market consumers are still developing brand loyalties. Scale also provides an advantage there because the retail infrastructure is not as advanced as it is in industrialized nations, and therefore large manufacturers can provide reliable delivery at a lower cost than their competitors can. That is why the Procter & Gambles of the world — companies with scale — are rushing to those markets and finding a degree of success that is eluding them back home. But as these markets evolve and mature, and as competition increases, these markets will probably start to favor coherence as well.
From Consolidation to Fragmentation
The value of consolidation, like the value of size, was more substantial in the past than it is today. In the 1980s, a company with a loosely configured portfolio pursuing an incoherent growth strategy could maintain adequate shareholder performance for years, until it was eventually purchased by another company. Those days are gone. In recent years, the CPG industry has undergone a sea change in its structure. Some product categories are consolidating, but many are fragmenting instead: They are splitting the customer base among more, rather than fewer, competitors. (See Exhibit 2.)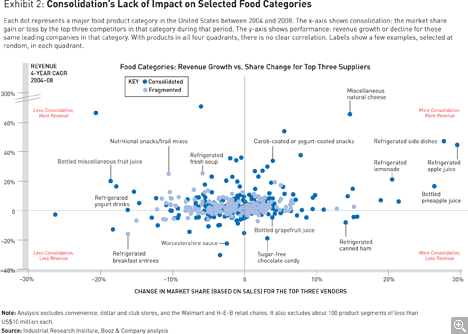 Paradoxically, one of the reasons for this is today's more consolidated retail environment. When retail outlets were still highly fragmented, a manufacturer could gain an advantage by having a bigger sales or distribution force to knock on more doors and get products on the shelves. Now there are fewer retail brands, but a greater number of megastores and outlets. In some cases, this situation favors consolidated manufacturers. For example, when CVS Caremark decided to stop selling Energizer alkaline batteries in 2009 and retain Duracell as its sole national brand, analysts estimated the revenue shift at $25 million.
But more often, small, coherent manufacturers find that retail consolidation works in their favor. Simply by getting accepted at Walmart, a CPG company with one or two popular products can gain access to 30 percent of the U.S. market overnight. With another one or two big retail distribution wins, the company can reach 50 percent or more of its target market.
Getting this access is easier than it may seem, because although most big retailers routinely limit the number of products they carry, they place less emphasis these days on product breadth and more on category-specific differentiation based on superior shopper and consumer insights. They also don't want to limit their suppliers to large CPG players. That would mean giving up some of their negotiating power. Walmart doesn't say so, but this is undoubtedly part of the reason it often highlights smaller suppliers in its annual awards; it may also explain why CVS continued to carry Energizer's lithium battery line after it dropped the company's alkaline batteries.
In such an environment, manufacturers don't need the biggest fleet of delivery trucks, the most salespeople, or the largest trade merchandising budget. They need to score with big retail buyers through distinctive capabilities in innovation, product development, and packaging. Consumers, for their part, are open to choosing smaller brands that don't control their sector, especially in categories where a high level of engagement or sophistication is involved. Think of the chocolate lover who is drawn to a highbrow brand such as Vosges, Lindt, or Ghirardelli, or the connoisseur who insists on freshly baked bagels to go with a high-end form of Nova salmon. Consumer engagement also tends to spread virally; if a large number of people in a community buy specialized pots and pans at Williams-Sonoma, sooner or later their neighbors will look for similar cookware at Walmart or Target. This type of dynamic tends to push a category toward fragmentation, as different groups gravitate toward different competing brands.