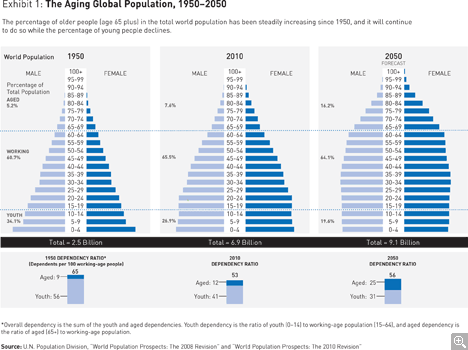 Every country seems to go through a similar cycle as its economy matures, the balance shifting between working-age (younger) and retirement-age (older) cohorts. Exhibit 2 shows this dependency curve in both its generic form and the way it has played out in several different countries. The change begins with a baby boom — a relatively high number of young children, with a high level of dependence on parents. As these children mature into young adults, the country experiences a time of overall peak earning power. It is after youth dependency has started to decline but before the dependency of the older population has become too acute. This can produce what demographer David E. Bloom has called a demographic dividend: a burst of prosperity, lasting a decade or more, brought on by the creativity and energy of so many young entrepreneurs and workers. Countries can reap this dividend only if government policies have readied the country's workforce with the proper education, infrastructure, and policies to maximize their economic potential.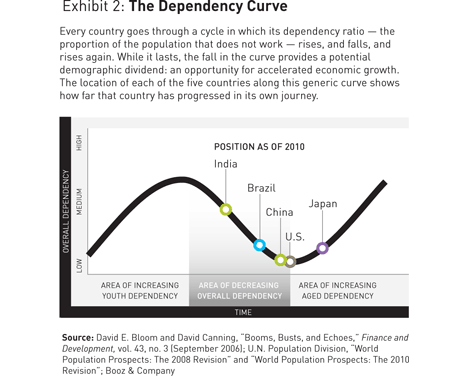 Sooner or later, however, families have fewer children and the population gets older. The dependency rates rise, this time permanently. From 1950 to 2010, the global dependency ratio declined from 65 percent to a low of 53 percent as baby boomers grew up and joined the global workforce. But from 2010 to 2050, that trend will reverse and the dependency ratio will quickly start increasing. In other words, the world is at an inflection point. The global dependency ratio is still relatively low (which is good for prosperity), but it will rapidly increase as the average age of the population rises (which presents a challenge). Governments will have to devise new ways to support those who are retired and to stimulate wealth creation through innovation and productivity gains, which do not depend heavily on labor.
Of course, each country moves through this curve at its own pace. China's dependency ratio is expected to begin climbing in 2015, Brazil's in 2025, and India's in 2040. Japan, by contrast, saw its dependency ratio turn upward in 1995. Some countries, including Sweden, Germany, France, Spain, and the U.K., are hoping to prolong their time of lower dependency by keeping more people in the workforce — for instance, by increasing the retirement age past 60, or 65, or 70, or by using policy change to encourage immigration. However, recent protests against raising the retirement age throughout western Europe make it clear that this will not be easy, and unrest in the region has illustrated the demographic difficulties of integrating immigrants into a national culture.
The Arc of Growth
The dynamics of human development — overall quality of life and economic well-being — also take place along fairly universal patterns. By tracking aging against human development, it is possible to see the journey that countries take as they strive to create prosperity and equality. (At this time, no perfect measure of human development exists; we use prosperity and equality as a proxy, but expect this metric to evolve — for instance, by taking into account education levels and environmental sustainability.) This arc of growth also shows a country's position relative to other countries and, by inference, the societal, economic, and environmental issues it faces. (See Exhibit 3.)
There are almost 200 nations in the world. They fall into four clusters on the arc of growth, according to our analysis of 131 sample countries.
1. Nascent countries, in which the dependent population is dominated by people below the age of 15. These countries are also characterized by marginal increases in prosperity and equality levels (rapid increases from a very low base).