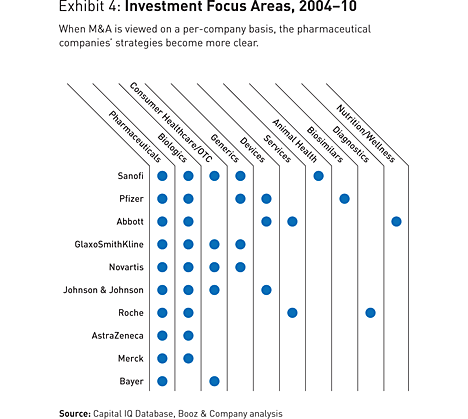 Value of Strategic Bets
The diversification moves that pharmaceutical companies have made may look like they meet our definition of strategic bets: Bets designed to position the company for success in one or more specific business scenarios, that are either aligned with the company's existing key capabilities systems or that include a plan for developing or acquiring other capabilities that will be needed for success. Instead, in many cases, pharma companies seem to be merely adding new lines of business designed to broaden their portfolios and reduce the volatility of revenue and earnings. "The baseline is they have to stand alone," says one pharmaceutical company CEO, describing his company's diverse businesses, which he has fine-tuned with the help of almost a dozen acquisitions in recent years. "I expect them to actually be able to succeed independently of that extra opportunity afforded by some linkage" with other units, he says.
This is still the common mind-set in the industry, and the underlying assumption — that business units should be managed separately, and their individual profits maximized — makes perfect sense in a deterministic environment. But in a stochastic environment, in which no company can know how the future will evolve, we believe this stand-alone pieces-of-a-portfolio approach is insufficient to position a company to adapt successfully. This does not imply that diversification in a stand-alone business cannot be successful. Often pharmaceutical companies build successful businesses and create significant value by entering adjacent spaces. However, if these businesses are not linked with the core pharmaceutical business, they won't help the company prepare, or reposition itself, for the future. In such cases, it may make sense to split the successful independent business from the core pharmaceutical operation to realize the created value, as Abbott recently decided to do, splitting its drugs and medical products businesses into separate publicly traded companies.
This is where the approach of strategic bets comes in. As we're defining them, strategic bets give pharmaceutical companies — or any company that finds itself in a stochastic environment — flexibility in terms of the directions in which they can move, and have implications for the companies' market positions, their operating models, and the evolution of their capabilities. Without question, strategic bets should have the potential to enhance the core drug business, the source of every pharmaceutical company's greatest potential profits. However, implicit in the idea of a bet is that it may not be a winner. This explains both why it is essential to make several bets as opposed to banking on one, and why the company must be willing to move quickly, doubling down or lightening up, after it sees how the bet is faring.
A strategic bet begins with some hypotheses about the future and an attempt by a pharmaceutical company to position itself to take advantage of that future. (See "Scenarios for Success," below.) The hypothesis might be that disease management will gradually have less to do with prescription drugs and physician oversight, instead becoming more the responsibility of the patient. In that scenario, the company may want to have a consumer healthcare business — not necessarily for the stand-alone profits the business can generate, but in the belief that a consumer healthcare unit will become an essential partner with pharmaceuticals in a changing disease-management landscape. If the scenario it has built about the future comes true, the company will already have the platform in place to make its overall business more successful. If the scenario doesn't materialize, the company making the strategic bet can alter its treatment of the unit — managing it for profit or selling it off.