Many offshore IT service companies are already moving in this direction. They are using their industrialized delivery capabilities and low-labor-cost advantages to compete against such global players as IBM, Accenture, and HP. They will seek aggressive expansion into the lucrative markets of mature economies; the challenge for them will be to do so while remaining true to their low-cost, offshore roots.
Finally, the software and Internet companies on the ICT 50 are financially sound and highly innovative, with generally strong portfolios and a great deal of growth potential. They should expand, but only into areas that differentiate them. Microsoft, Oracle, and SAP are in a strong position today, and they are working hard to stay there. But "digital native" players are pushing aggressively into the arena, especially in cloud computing and social media. Expect digital-centric players such as Google to move up in the software ranks, and look for more cloud-based software companies to follow older firms like Salesforce.com into prominence.
In most industries, it takes a long time for companies to change the way they operate. But many members of the ICT 50 have already shown themselves to be fast-moving and flexible. Next year, when we look again at the industry, we suspect that much will have changed; we may well see 10 newcomers among the ICT 50. But the biggest winners will undoubtedly be those that, like IBM, Microsoft, and Oracle (this year's top three), combine flexibility with a distinctive core identity that no one else can duplicate.

Methodology
For this study, we analyzed the 50 largest publicly traded companies in the ICT supplier industries on four measures: financial performance, portfolio strength, go-to-market footprint, and growth potential. (See Exhibit 7.) Our analysis was based on a combination of publicly available financial data and a qualitative assessment of the capabilities of each player, conducted by a panel of Booz & Company ICT sector experts.
In making this assessment, we used clearly defined criteria to investigate the relative strength and strategic positioning of each company in each of the four dimensions. Consolidated scores for each company were determined on a scale from 0 to 4. Events that became public knowledge after April 2012 — such as CGI's announcement of its plans to acquire Logica — occurred after we collected the data for the 2012 Global ICT 50 study and are thus not reflected in the results.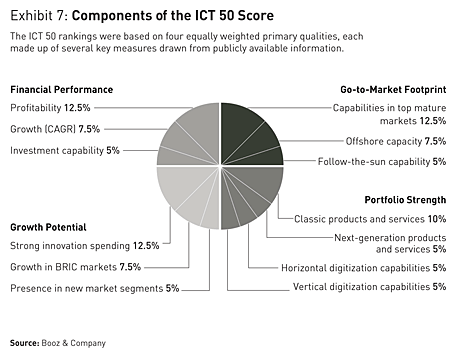 Reprint No. 00119
Author Profiles:
Olaf Acker is a partner with Booz & Company based in the firm's Frankfurt and Dubai offices. He focuses on business technology strategy and operating model transformation programs for global companies in the telecommunications, media, and high-tech industries.
Florian Gröne is a principal with Booz & Company based in Berlin and New York. He heads the firm's CRM Center of Excellence in Europe, and works with telecom, IT services, and consumer products companies on their path to digitization.
Germar Schröder is a principal in Booz & Company's Frankfurt office. He focuses on communications clients and ICT service providers, and has led several initiatives for product development, go-to-market, and operating model design, specifically for the cloud.
Also contributing to this article were Booz & Company senior associate Hans Geerdes and contributing writer Edward H. Baker.