The difference between the Salk and a great research university is a matter of focus and freedom, says Dr. Murphy, who joined the institute in October 2000. "A university department has to have a broad range of course offerings to cover its teaching responsibilities, and so they have to hire people for that," he says. "We just choose the very best people we can find. People here have the time to really focus on the fundamental questions.
"The faculty have absolute freedom to do what they want. If we hire a neuroscientist, and a week later, he says there's an interesting problem in cancer he wants to pursue, we say Godspeed," he says. "We give them the freedom to do it."
Any scientific specialty reaches a point where the world becomes a very small place, and most of its practitioners know one another from conferences and global symposia. Ask any scientist at the Salk how he or she came to be there and the usual response is recruitment by a friend or a peer. And despite the generous freedoms offered by the institute, staying in this club has the same requirements as joining: a steady stream of publications in peer-reviewed journals, winning grant proposals from the National Institutes of Health, and the kind of advisory board appointments that help anoint a professional as "preeminent" in his or her field.
But managing 56 "legends in their own minds," as one faculty member jokingly calls his colleagues, can be a challenge. Scientists who join the Salk Institute — all have had distinguished careers elsewhere — have made a conscious decision not to join industry and not to teach, but to pursue science in an environment where they are not distracted by classroom duties or shareholders. They tend to do just what they please. They answer to peer review, not performance appraisals.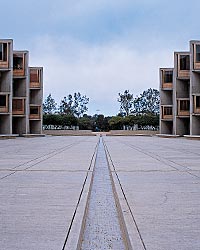 Although several Salk Institute scientists have helped start companies, very few have left the institute to work in the commercial world. "I was offered a big job in industry, and attractive as that seemed, it became clear I would be responsible to the president, who was responsible to the shareholders, and that my goals, which were driven by intellectual curiosity, were unimportant," says Geoff Wahl, a professor in the Salk gene expression lab, where he and his colleagues pursue the molecular biology of cancer.
He rejected the offer. "Freedom has no amount of monetary consideration," he says.
Similarly, Inder Verma, a Salk professor also specializing in cancer research, says, "Within 10 minutes of receiving an offer or inquiry, I send a letter saying, 'I'm flattered, but I have no thought of leaving.'" At the Salk, he says, "The science has gone well, it's a very nice place to live, and I have a very substantial influence in the institute, how it's run and how it's evolved. That doesn't mean I always get my way, but I have an influence, I feel welcome. I have an opinion that counts."
Facing the Market
Of course, no freedom is absolute. The trustees at the Salk and other such institutes recognize that they have a responsibility to society to deliver advances in medicine that will improve people's lives. Moreover, foundations and individual donors today seek returns on their philanthropic investments: In a world whose troubles are as apparent as its opportunities, they want to see their contributions made manifest in their lifetimes. That means channeling scientists' enthusiasms to the real-world applications of their research, and encouraging them to file for patent protection and think about licensing opportunities. In some cases a subtle pressure is applied, but scientists who have seen peers start companies or develop breakthrough drugs are increasingly taking the initiative in seeking applied solutions based on their work.