Many believed small retail players in Latin America would be swept away by the sector's consolidation and the rapid entry of new hypermarkets and supermarkets, as was the case in the U.S. and Europe, where small retailers have retained only 10 to 20 percent of the consumer packaged-goods market as large retailers have grown. So far, this has not occurred in Latin America. Small-scale independent supermarkets and traditional stores together still account for between 45 and 61 percent of consumer-goods retailing in Latin American countries. (See Exhibit 1.)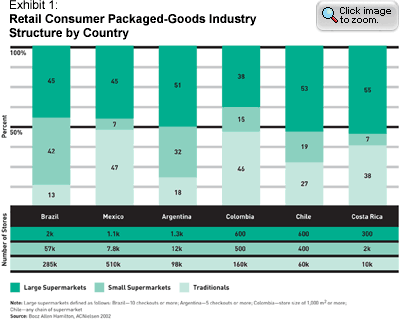 Despite the growth of modern supermarkets, five basic service models remain common to all Latin American countries:
Traditional stores tend to be small (about 25 to 50 square meters) and offer mostly counter service.

Small supermarkets are self-service businesses, usually with no more than four checkout lanes. Stores range from small outlets staffed by a sole proprietor and with only one cash register, to bustling independent supermarkets that stock a wide variety of products and have as many as five or six checkout lanes.

Street vendors and open-air markets don't have a permanent location; many are mounted on carts that serve as easily moved stalls. Some vendors set up shop in the same location every day. Others operate in multiple locations that vary by the day of the week.

Category specialists, such as butchers, bakers, and greengrocers, offer a limited selection of fresh foods. These stores usually have counter service. (There are some exceptions, such as Brazil's self-service fruit and vegetable stores.)

Convenience outlets use kiosks that are less than 10 square meters in size. These outlets sell "fast-moving" goods, primarily candy, gum, tobacco, and general merchandise, such as pens, notebooks, and newspapers.
Even though Latin America's emerging consumers have not yet migrated in large numbers from these traditional outlets to modern supermarkets, competition is now compelling larger retailers to try to win more customers from the emerging segment. Competition in the consumer-goods retailing and manufacturing sector is also heating up as global multinationals and Latin America's "multilatinas" (large companies headquartered in Latin America and serving markets throughout the region) contest one another for market share. As the battle between modernity and tradition heightens, multinationals and multilatinas alike must peel away six fictions that prevail in the six Latin American countries we studied.
Myth #1: Low-income consumers spend little on material goods.

Truth: Although these consumers are poor, proportionately they spend more of their income on consumer goods than those in wealthier segments.
Emerging consumers spend from 50 to 75 percent of their disposable income on consumer products. For people living at the subsistence level, that share of income is often 100 percent. Middle- to upper-income consumers allocate as much as 35 percent of their income to these goods.
There is much severe poverty in Latin America, but a significant portion of low- and lower-middle-income households have running water, electricity, and such basic appliances as refrigerators, televisions, and radios. In countries such as Mexico and Costa Rica, a considerable number of low- and lower-middle-income urban households also have washing machines and VCRs, and access to cars. All of this influences these households' demand for consumer goods, and consumers' purchasing behavior.
In many emerging consumer households, "stay at home" mothers make most of the purchases. We found that the self-esteem of these women was significantly tied to how they managed their spending on consumer goods for their families. For many mothers, the purchase of consumer products is the mechanism by which they fulfill their overlapping roles of "wife," "caring mother," "educator," and "household manager," and also is how they satisfy their own personal needs.