2. Consumer Products: Some Brands Win
(originally published by Booz & Company)
Consumer anxiety had been building throughout 2008, but only in the autumn did this anxiety show up in day-to-day buying habits. Perhaps that was because those first to feel the effects, in the spring and summer, were a relatively small group of consumers: bankers fearful of losing their jobs and homeowners unsure they would be able to refinance their mortgages. But later in the year, the broader consumer climate began to chill as unemployment levels rose.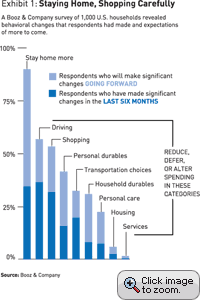 In the U.S., the change in consumer behavior was evident in an in-depth survey of 1,000 households conducted in September by Booz & Company. It suggested that, in contrast to their behavior in many previous downturns, a large proportion of consumers were al­ready cutting back in anticipation of income declines. They had begun shopping more frugally, driving less, and spending less on restaurants and entertainment outside the home. (See Exhibit 1.) And consumers expected to make even deeper cuts in their spending, given their gloomy outlook for the economy. But they had not switched brand loyalties or expectations. Indeed, in the months to come, as people spend more time at home, they will probably grow more attached to brands that provide the most perceived value at the lowest cost.
Companies that have successfully built up a distinctive combination of brand value, customer loyalty, and savvy pricing can now use their success as a launching pad for further growth. For example, in September, the Tesco PLC retail chain rolled out a product line called Discount Brands, more expensive than its Value brand and billed as "high quality you can afford." Now is the time to launch such second brands, provided they can offer quality without the frothy advertising and aspirational pricing of their top-of-the-line siblings.
Marketers can also thrive by providing alternative, noneconomic reasons for consumers to trade down to less-expensive products. These might include environmentalism, health, and simplicity. Auto dealers can sell the Toyota Prius instead of the Lexus as a way for customers to "do their part to stop climate change," even though the price and fuel-cost savings ultimately drive the decision to switch.
Consumer concerns about health and wellness have inspired much product innovation during the past five years. The growth of organic food sales may be faltering, but this is probably not the end of popularity for organics and wellness-oriented products. Consumers will continue to age, and they will still want the benefits of health and physical well-being. But now they will seek out manufacturers and retailers who deliver those benefits at mainstream prices. This tension will stimulate innovation that should lead to a new synthesis between environmental and health concerns and pricing.
For luxury goods, the challenge is different. It is often said that spending by the superrich is immune to economic crisis. But luxury brand owners will still face losses among their mass affluent customers, the market segment in which many of the most prestigious brands achieve enough volume to remain profitable. Savile Row will carry on, but premium-branded factory "made to measure" clothiers will suffer. These companies need to find ways for their products to become palatable to more cost-conscious consumers while maintaining their image of high value and status.
The key is pricing. Manufacturers and retailers alike should feature just a few price points, clearly indicated, so that consumers know how to control and manage their spending. That fits the in-store behavior observed last autumn in the U.S. and Europe — where retailers report seeing more planning, more shopping lists, and more conscious management of price and value. The long years of the booming economy let many marketers cloud brand portfolio fundamentals; they now need to clearly differentiate their premium brands from those at the bottom of the pricing ladder.
Marketers need pricing that fits like a wetsuit, following the nooks and crannies of customer preference and spending constraints, stretching and bending as the economy shifts up and down. One consumer products manufacturer was caught off guard by a rapid shift in consumer interest from premium convenience packages to larger, better-value packages; the company discovered during the shift that the larger packages were not profitable. As they seek to prevent this kind of pricing surprise and to realize profits, manufacturers and retailers must work together more closely than ever before, minimizing the friction that raises prices and causes inefficiency.

Author profile:
---
Richard Rawlinson
is a partner with Booz & Company based in London. He focuses on the leader­ship agenda for consumer-oriented and services clients. He was a lead contributor to
Capturing the People Advantage: Thought Leaders on Human Capital
(strategy+business books, 2008).
Recommended stories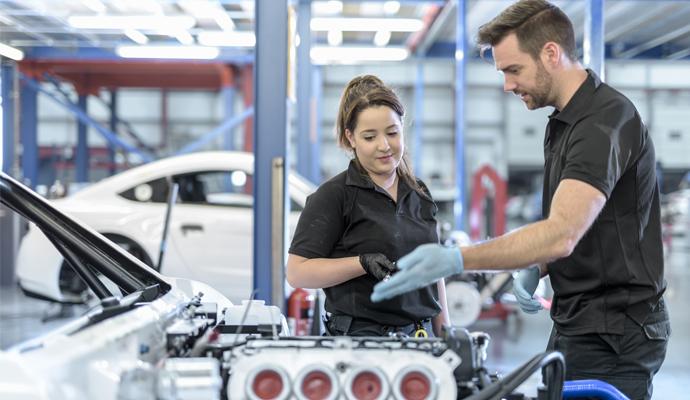 When the paint shop leadership team for carmaker Audi initiated a change process, they decided to trust the power of questions.