Organizations can count on resistance to and fear of change from their HR departments and the people they serve. For many longtime HR administrators, working in an HR department that isn't immersed in administration is not only undesirable, it's frightening. Many HR administrators truly enjoy helping managers and employees solve their day-to-day problems and take pride in their expertise. They worry about losing personal contact with their "customers." One way companies can respond to these employees is to transfer their jobs to the outsourcer. The HRO gets the internal knowledge and talent of its client's best administrators, which makes it easier for the HRO to build its service capabilities quickly. This is the approach IBM used when it outsourced much of its HR administration to Fidelity in 2002. Almost 1,000 IBM HR employees ultimately were transferred to Fidelity.
There is also the issue of whether HR staffs have the business skills to meet new expectations. My research, supported by recent research at the University of Michigan on HR competencies, indicates many HR professionals don't have the right skills and experience to take on more strategic responsibilities. Because they often have spent their entire careers in HR — or even in one specialty such as training, compensation, or recruiting — they don't have sufficient knowledge of the business or experience in assessing organizational effectiveness or leading change.
Adjusting to a self-service system of eHR can be difficult for many employees. Everyone needs time to get used to the electronic tools. Remember how people initially reacted to e-mail? Some took to it immediately; some were reluctant converts; and some still, to this day, prefer not to use it. At one company I studied, managers could do a number of administrative tasks (e.g., give raises, post jobs) on the company's eHR system, but they still preferred to deal directly with their HR contact. The company finally broke this habit by eliminating the human resources administrators so that line managers had to use the new self-service system.
Finally, it's impossible to overemphasize the importance of selecting the right vendor and managing the relationship from the outset as a close partnership. When the outsourcer steps in to run the process, many operational details can easily fall through the cracks and cause friction at a crucial time when the two parties are trying to build trust. An HRO, for example, can't instantly liberate HR managers from their administrative work, especially if imperfect data has to be corrected by hand to keep systems running smoothly, which is common in large companies.
Hiring outside experts in such areas as change management, organizational design, and business strategy is often necessary, but these decisions need to be evaluated separately from administration because they require a deeper understanding of an organization's market, its operating environment, and its business strategy. The HR pyramid shows which functions have the potential to create a strong competitive advantage. (See Exhibit 1.) Not surprisingly, many of the transactional HR processes that every company must perform have a low strategic value.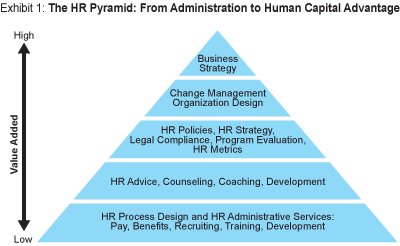 Organizational Effectiveness
One way to reframe the role of HR is to apply new terminology, perhaps replacing "human resources" with "organizational effectiveness," and appointing a "chief organizational effectiveness officer" with responsibilities for ensuring the organization has the right human capabilities and core competencies to meet its business goals.
With or without the change in language, the appointment of a respected senior executive who reports to the CEO and who can provide leadership in the areas of human capital management, organization design, and effectiveness is critical to setting a new tone and validating a new role for HR.