"Execution" has become the new watchword in boardrooms, as CEOs and directors watch sound strategies fail at the hands of organizations that cannot or will not effectively implement them. The first step in resolving these dysfunctions is to understand how the inherent traits of an organization influence — and perhaps even determine — each individual's behavior, and how the collective behavior affects company performance.
We like to use the familiar metaphor of DNA to codify the idiosyncratic characteristics of a company. (See "The Four Bases of Organizational DNA," s+b, Winter 2003.) Like the DNA of living organisms, the DNA of living organizations consists of four building blocks, which combine and recombine to express distinct identities, or personalities. These organizational building blocks — structure, decision rights, motivators, and information — largely determine how a firm looks and behaves, internally and externally. (See Exhibit 1.)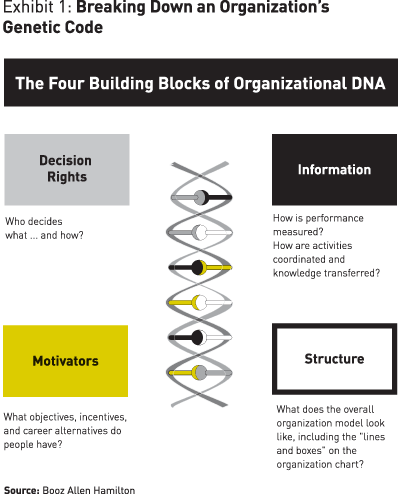 Last year, we developed a short, online self-assessment tool called the Org DNA Profiler™ (www.orgdna.com) to measure an organization's relative strength in each of these four areas, on the basis of individual employees' responses to 19 questions. Survey responses are fed through proprietary software to generate one of seven prototypical organizational profiles — or, to continue the genetic metaphor, "species." (See "The Seven Organizational Species," below.)
The Seven Organizational Species
In working with companies to diagnose and overcome organizational impediments to effective execution, we have identified seven broad types of organizations:
The Resilient Organization. This organization is flexible enough to adapt quickly to external market shifts, yet it remains steadfastly focused on and aligned with a coherent business strategy. This forward-looking organization anticipates changes routinely and addresses them proactively. It attracts motivated team players and offers them not only a stimulating work environment, but also the resources and authority necessary to solve tough problems.
The Just-in-Time Organization. Although not always proactive in preparing for impending changes, this organization has demonstrated an ability to "turn on a dime" when necessary, without losing sight of the big picture. Although it manages to hold on to good people and performs well financially, it has not made the leap from good to great. This organization tends to miss opportunities by inches rather than miles, and to celebrate successes that are marginal rather than unequivocal. Despite its frustrations, however, it can still be a stimulating and challenging place to work.
The Military Organization. Often driven by a small, hands-on senior management team, this organization succeeds through sheer force of will, the will of its top executives. It can conceive and execute brilliant strategies — sometimes repeatedly — but its middle-management bench can be shallow and short lived. This organization's biggest liability is preparing for growth beyond the tenure of its current leaders. Junior talent in this organization typically learns by seeing rather than doing, and middle management often defects as up-and-comers realize they must leave the nest to get flying experience.
The Passive-Aggressive Organization. So congenial that it seems conflict free, this is the "everyone agrees but nothing changes" organization. Building a consensus to make major changes is no problem; implementing them is what proves difficult. Entrenched, underground resistance from the field can defeat a corporate group's best efforts. Lacking the requisite authority, information, and incentives to undertake meaningful change, line employees tend to ignore mandates from headquarters, assuming "this too shall pass." Confronted with an apathetic organization, senior management laments the futility of "pushing Jell-O."
The Fits-and-Starts Organization. Scores of smart, motivated, and talented people populate this organization, but they do not often pull in the same direction at the same time. When they do, they can execute brilliant, breakout strategic moves, but the organization typically lacks the discipline and coordination to repeat these successes on a consistent basis. It is an environment that lures intellect and initiative — smart people with an entrepreneurial bent — because the opportunities to pursue an idea and to take responsibility for executing it are abundant. The result, however, can be an organization with a disjointed self-image on the verge of spinning out of control.
The Outgrown Organization. This firm has outgrown its organizational model; it is bursting at the seams. Too large and complex to be effectively controlled anymore by a small team of top executives, it has yet to "democratize" decision-making authority. Consequently, much of the organization's potential remains untapped. By keeping power centralized, the organization tends to move slowly and often finds it cannot get out of its own way. Such firms routinely miss opportunities and consistently fail to execute effectively.
The Overmanaged Organization. Burdened with multiple layers of management, this organization tends to suffer from "analysis paralysis." When it does move, it moves slowly and reactively, often pursuing opportunities later or less vigorously than its competitors do. More consumed with the trees than the forest, managers spend their time checking one another's work rather than scanning the horizon for new opportunities or threats. These organizations, which are frequently bureaucratic and highly political, tend to frustrate self-starters and results-oriented individuals.
— G.N., B.A.P., and D.M.