We launched the Org DNA Profiler on December 9, 2003, and in the first two weeks, collected 4,007 completed assessments. (See "The Org DNA Profiler Methodology," at the end of this article.) Respondents came from companies of all sizes in a wide variety of industries, including financial services, pharmaceuticals, telecommunications, energy, and consumer packaged goods, and represented every function and every level in the corporate hierarchy. (See Exhibits 2 and 3.)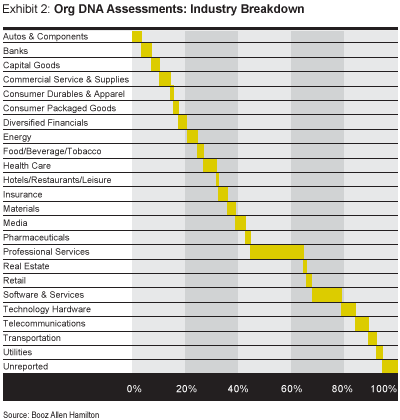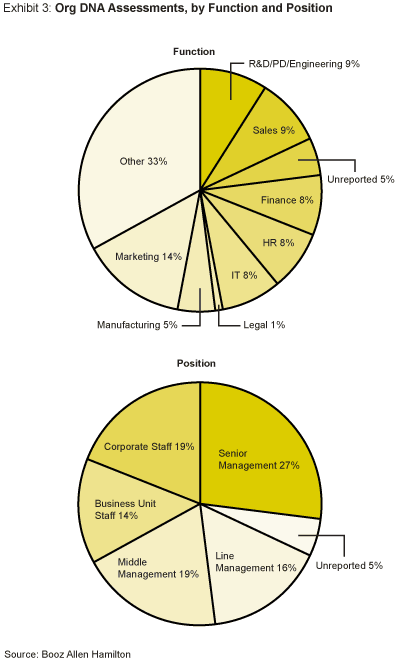 The responses (and the thousands more we have continued to collect) prompt six observations about the prevalence of dysfunction among business organizations and the reasons for their maladies:
1. Most organizations are unhealthy. More than 60 percent of respondents found their organizations fit one of the four species associated with subpar performance: Passive-Aggressive, Fits-and-Starts, Outgrown, or Overmanaged.
2. Organizational DNA changes as companies grow. As a rule, small companies report more Resilient and Just-in-Time behaviors. As they grow, they may centralize and demonstrate more Military traits. Once their annual revenues cross the $1 billion threshold, operations necessarily decentralize, but often badly, as revealed in the higher incidence of Fits-and-Starts and Passive-Aggressive profiles. Once past the $10 billion mark, companies have obviously demonstrated some key success traits but are not necessarily free from dysfunction.
3. Altitude determines attitude. Survey results indicate sharp differences between senior-management responses and those of lower-level personnel, suggesting a disconnect between the organizations that senior executives believe they've established and the organizations they are actually running.
4. Nonexecutives feel micromanaged. Although senior managers appear to view their self-professed involvement in operating decisions as good, junior managers overwhelmingly reported feeling a lack of maneuvering room.
5. Decision rights are unclear. More than half of those completing surveys indicated they believed that the accountability for decisions and actions in their organizations was vague.
6. Execution is the exception, not the rule. Fewer than half of all respondents agreed that "important strategic and operational decisions are quickly translated into action" in their organizations. Poor information flows seem mostly to blame.
Unlike humans and other organisms, organizations have the ability to change their DNA by adjusting and adapting their building blocks. Our survey findings suggest steps companies can take both to better understand the nature of their difficulties and to improve their execution capabilities.
The Checkup
Our review of the 4,000-plus assessments showed that most organizations are unhealthy. Of the seven organizational species, only three — Resilient, Just-in-Time, and Military — can be described as relatively free from dysfunction, or "healthy." Only 27 percent of the survey responses resulted in one of these three healthy profiles. More than 60 percent of respondents indicated that the traits and behaviors of their organizations were unhealthy in some way. Their responses describe firms unable to act decisively or effectively.
The most prevalent species was Passive-Aggressive; 31 percent of respondents reported organizational behaviors consistent with this type. Overmanaged was the second largest category, at 18 percent. The healthiest species is the Resilient firm. Yet only 15 percent of respondents indicated that their companies fit this profile. We found significant differences among industries in their degree of passive-aggressiveness, from a low of 17 percent of people in the durables and apparel sector who indicated their companies fell into this category, to a high of 40 percent among insurance-industry respondents. The surveys show that the more highly regulated the industry, the greater the level of passive-aggressive behavior. Similar variations existed among departments, with overhead and staff functions perceiving passive-aggressiveness in their companies more than manufacturing and sales personnel. (See Exhibit 4.)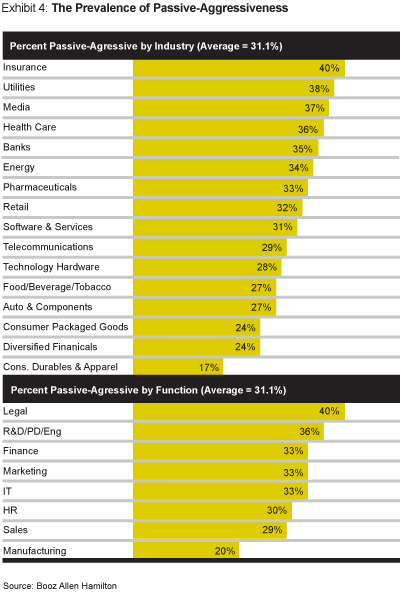 The surveys suggest that companies pass through different "genotypes" as they grow and that they hit a kind of Darwinian barrier when their embedded traits and behaviors hinder their ability to perform according to their aspirations. Astute managers appreciate these subtle shifts and can help their organizations transition to new models as the company expands. (See Exhibit 5.)