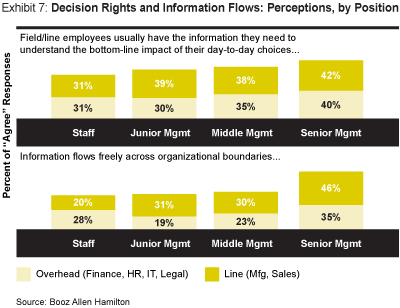 Consistent with their views on decision rights, overhead employees are the most negative in their assessment of information flows. Although still sore points, information access and decision rights are less of a struggle for line organizations. Still, survey responses overwhelmingly point to the need for improved information, tools, and incentives for decision makers in all parts of the organization.
Preliminary results from the Org DNA Profiler assessment tool show that most companies today face organizational impediments to effective and rapid execution. Although 37 percent of respondents from small companies thought their organizations translated strategy into action quickly, only 29 percent of the respondents from the largest companies agreed with that statement.
Respondents at all levels in companies across industries indicated that their organizations struggle to execute decisively and effectively. Fewer than one-third of nonexecutive respondents agreed that "important strategic and operational decisions are quickly translated into action" in their organizations. Even at the most senior levels, fewer than 50 percent of respondents indicated that their companies act decisively in implementing strategy. Whether they fall into the Passive-Aggressive profile or the Outgrown, their organizational DNA is thwarting their own best efforts — and ultimate success.
As they confront their problems, companies are also contending with an increasingly complex global marketplace, where change buffets them relentlessly. According to our early results, fewer than half of the Org DNA Profiler respondents at all nonexecutive levels agreed that their companies "deal successfully with discontinuous change in the competitive environment." Even among senior managers, only half agreed with this statement.
Gene Therapy
When an organization's DNA is poorly configured, the firm exhibits unhealthy symptoms and counterproductive behaviors. The first step in fixing these problems is to identify and isolate them. That is the purpose of the Org DNA Profiler assessment tool. Using a framework that examines all aspects of a company's architecture, resources, and relationships, the tool allows management to gain insight into what is and is not working deep inside a highly complex organization.
But generating a profile is not the point; it is only an exercise designed to focus leaders on the root causes of their organizations' dysfunctions and execution problems. It is up to management to translate these findings into sustainable solutions. Using the Org DNA Profiler as a starting point for discussion, top executives, business unit heads, and staff leaders (a group that might be 10 people or more than 100) can meet to identify the impediments to effective execution in their organization and develop programs and processes to overcome them. The organizational DNA framework helps companies identify and expose hidden strengths and entrenched weaknesses so that managers can focus efforts on reinforcing what works in their organization and modifying what does not.

The Org DNA Profiler™ Methodology
The Org DNA Profiler™ assessment tool categorizes organizational character based on employees' responses to a five-minute survey composed of 19 questions. This assessment tool, although based on individuals' survey responses, focuses on the traits and behaviors of the organization as a whole rather than on the individuals who populate it, although certain general demographic data (e.g., position/level, division, industry, annual revenue) is collected to enhance the analysis.
Each question addresses organizational behavior with regard to one of the four building blocks of organizational DNA: decision rights, information, motivators, and structure. The responses are then fed through proprietary software that assigns the organization described to one of seven organizational species.
Reprint No. 04210
---
Gary Neilson
(
[email protected]
) is a senior vice president with Booz Allen Hamilton in Chicago. He works on the development of organizational models and designs, restructuring, and the leadership of major change initiatives for Fortune 500 companies.