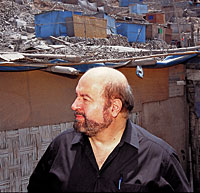 By focusing on property rights and economic opportunity, and by visibly steering clear of corruption in his own politically troubled country, Mr. de Soto has managed to maintain an apolitical, nonideological reputation. In the United States, he's been praised extravagantly by conservatives such as former Republican presidential candidate Steve Forbes and by former president Bill Clinton, who has said, "De Soto's ideas about how to empower the world's poor represent one of the most significant economic insights of our time." In May 2004, Mr. de Soto became the second economist to receive the $500,000 Milton Friedman Prize for Advancing Liberty from the Cato Institute, the libertarian think tank based in Washington D.C.
Lessons in Development
Mr. de Soto, who is a tall, rumpled, balding, and genial-looking 62-year-old with a slight resemblance to comedian Carl Reiner and a general air of childlike insouciance, is fond of illustrating his argument to audiences by holding up a piece of fruit. In an October 2003 speech at Yale University's Center for the Study of Globalization, he peeled a banana onstage. "Nowhere does it say, 'This is Hernando's banana.' Nothing about the banana says that Hernando can sell it, mortgage it, pledge it, leave it to his heirs, or do a hundred things that you can do with a house in the United States. Which obviously means that my property right has nothing to do with the banana itself, but only with the law. If the banana is your house, and you haven't got the right papers, it's invisible to the law. All you can do is use it for shelter."
The expression "dead capital" is another of Mr. de Soto's favorite attention grabbers. He used it, for example, in his 1999 meeting with Prime Minster Atef Ebeid and his cabinet to refer to the vast tracts of land at the edges of the city colored in purple on a map of Cairo that he had prepared. "That's where people are squatting on agricultural land," he said. "We estimate that 25 million people, a full third of the Egyptian population, are living where no one is supposed to be."
Why did so many people settle there? Mr. de Soto displayed a time line showing the dozens of applications and authorizations necessary to site a home in the legally approved sector, amounting to a 17-year process. Legal entrepreneurship was equally difficult; it took 549 days to get permission to start a bakery. Another chart showed the difficulties of the underground economy: People spent up to several weeks each year protecting their property, defending ownership, preventing theft, and in some cases paying fines, going to jail, or abandoning their homes when caught squatting. This in itself represented a major drain on Egyptian productivity, and a key reason so many Egyptians felt alienated from their government.
Then Mr. de Soto unveiled a calculated estimate: Egyptians had $248 billion worth of dead capital locked up in illegal properties and businesses. If they could somehow bring those assets to life, as either collateral or sources of investment, the potential capital, says Mr. de Soto, would represent 30 times the capitalization of the Cairo Stock Exchange, 40 times the value of all World Bank loans ever made to Egypt, and 55 times the value of all foreign private investment in Egypt since the time of Napoleon.
To an outsider, it's hard to believe that impoverished countries like Egypt could profitably tap into that capital. If it were so easy to do, why wouldn't they already have done it? Mr. de Soto answers by holding up as examples some countries that have successfully formalized their economies — the U.S., Japan, Canada, and most European nations. In all these places, formalization happened slowly, in fits and starts, and without much conscious awareness of what was going on.