Mr. de Soto had bought a large but rundown house in Lima, which he immediately hired workmen to renovate. Coming from Switzerland, he was struck by something that most Peruvians took for granted: the precariousness of the livelihoods of the carpenters at his house, the miners working for his company, and the street vendors he came in contact with every day. These people had neither formal contracts nor business licenses. If an employer or customer stiffed them, they had no legal recourse. They could not get credit to buy tools, and they had to make all their transactions in cash; they didn't even band together into entrepreneurial collectives or try to organize their work more effectively. With so many regulations and laws in place, he wondered, why were the working poor so unprotected?
The most important reason, he says now, "was that they were operating outside the legal system." And they were also invisible: Official statistics claimed that shantytowns made up 12 percent of the city of Lima; just from observation, Mr. de Soto knew the correct figure was closer to 60 percent.
As he grew more intrigued, he left his position in the mining company and formed the Institute for Liberty and Democracy. He convened conferences on the extralegal economy, bringing together Peruvians with economists and development experts he had known in Europe. He also began touring shantytowns on foot with local police officers, interviewing residents he met, and resolving to apply some empirical tests to the conventional wisdom. How long, for example, did it actually take to open a sewing factory? In 1983, two ILD associates charted every application, approval, and office visit that the law required, paying bribes only when absolutely necessary and making no use of privileged connections. There were 11 steps, involving eight separate agencies, requiring a total of 289 days and costing about $12,000 — or 32 times the average living wage.
During the next few years, from 1982 through 1986, ILD contracted with the Lima city government to formalize some of the homes in some of Lima's poorest neighborhoods. This meant surveying neighbors and community members to find out who held the moral right to apartments, houses, and businesses. While this required an enormous amount of legwork, there were comparatively few property disputes in the end. (This, too, is true in most countries. One of Mr. de Soto's favorite stories recalls a visit to Bali, where every time he crossed a property line, a dog barked. The Indonesian government might not recognize the lines of demarcation, but the dogs knew.)
By 1983, the city of Lima had granted 23,000 new titles to property. Citizens with titles no longer had to bribe officials or stay home for fear of losing their houses, and the result was a burst of economic activity that caused then-Peruvian president Fernando Belaúnde Terry to seek out Mr. de Soto in 1984, saying, "You've gotten under the nation's skin."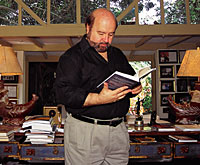 The next president, Alan Garcia, further involved Hernando de Soto in Peru's government, inviting him to operate as an advisory group on legal reform. ILD lawyers began designing and building a government-streamlining process, along with a series of property-rights reforms and transparency initiatives that the legislature and president adopted. To explain the laws, the ILD began producing television commercials, not unlike American state lottery commercials, inviting people to dream: "What would you do if you had capital?" By 1991, a staff of 100 worked at Mr. de Soto's think tank, 140,000 real estate titles had been granted, and ILD had evolved a powerful model for replicating its work in other countries. There were even a few private banks emerging, with ILD's blessing, to take on the business of lending money to the newly legitimate homeowners.