Transaction Mind-Set
If companies were to challenge the transactional supplier management model and closely examine typical purchasing department processes, we think they would see the many unintended consequences of the current model that hurt their businesses. For example, when contracts require year-over-year price reductions, or when purchasing departments must aggressively press for lower prices to meet their annual savings targets, it's not surprising that suppliers push back. (See Exhibit 1.)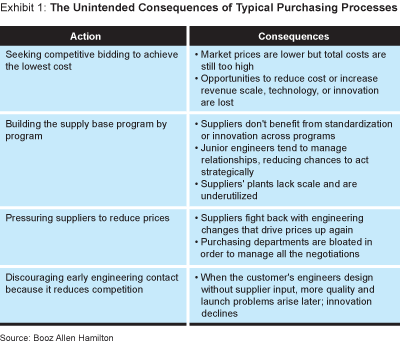 Another criticism: It doesn't take long for a supply base that has been built program by program to become overgrown, which affects the company in a variety of ways. For example, when a supplier is one among too many, it's impossible for that supplier to look broadly at its customer's engineering capabilities, program management, plants, and numerous parts categories to rationalize and improve part design.
Relentless demands by suppliers for engineering changes and price renegotiations also absorb a huge amount of their and the customer's management, engineering, and purchasing resources. This creates counterproductive tension. Suppliers hide profits and work hard to drive up margins, instead of putting their energy into delivering world-class service for their customers. Customers, on the other hand, may feel exploited by aggressive suppliers, which can lead them to impose outrageous demands (e.g., across-the-board purchase order price reductions after all negotiations are complete, or last-minute part changes that require large capital expenditures). Customers frequently threaten to take away their programs if suppliers don't comply. As the customer's workload expands, the number of its purchasing managers swells, too. As a result, suppliers have little or no opportunity to interact with their customer's senior management — and have no chance of developing a more strategic relationship with that customer.
There's another major problem in a business environment that encourages companies to look out only for their own interests: disincentives to innovate. For example, suppliers frequently don't get paid for investments made to generate product and process innovations. Consider the supplier that creates a new design for a specialized application. An OEM may like a supplier's design, but if it feels the supplier's price is too high, the OEM may take the innovation, apply it to its own part design, and then solicit competitive bids for the part's production. In doing so, the OEM is in effect taking the concept and the knowledge from its supplier's product and transferring the value to other suppliers without paying for the innovation. Although in many cases patents or other agreements protect suppliers from such practices, some innovations are quite subtle. A legal environment that protects all ideas is cumbersome, and suing your customer over intellectual property infringements is hardly an appealing business practice.
A Different Dynamic
The advantaged supply network strategy creates a very different — and we believe more productive — dynamic between the buyer and suppliers. For example, buyers expect their suppliers to earn fair margins for their technologies and to meet best-in-world cost targets.
When buyers and suppliers cooperate — by sharing information about their respective businesses, investing in superior technology to achieve joint business objectives, and learning together about opportunities to improve processes and eliminate inefficiency and waste — they can achieve business benefits that just can't happen in a transactional model. But making a network function for maximum impact takes a lot of effort. If anything, performance standards are tougher than before. For instance, meeting cost reduction goals is harder for the managers who handle sourcing and procurement because they can't justify their contributions to cost reduction just by negotiating the lowest piece part price; these managers need to be well versed in product-performance trade-offs and costs before the bidding begins. They must also be proactive in finding ways to help the supplier be better at what it does. And they need to create systems to find the next best practices, sometimes looking outside their current supplier base.