Achieving shared economic advantage is a game-changing model, and the executives and managers involved in designing the network have to be skillful in maintaining some competitive tension with suppliers while getting the right level of buyer–supplier management integration. In the advantaged supply network, buyers and suppliers must understand their specific roles and responsibilities in making the network effective for each member. The buyer that helps its supplier improve its cost structure is more likely, in the long run, to also benefit from the supplier's economic edge.
A fully developed advantaged supply network tries to account for all elements that influence manufacturing costs, such as plant scale, process technology, location, logistics, wages, and capacity utilization. If "designing a part for manufacturability" is the goal (i.e., faster, easier, less-expensive production), having the right supplier in place to get involved early in the design process is the key to success. (See Exhibit 2.)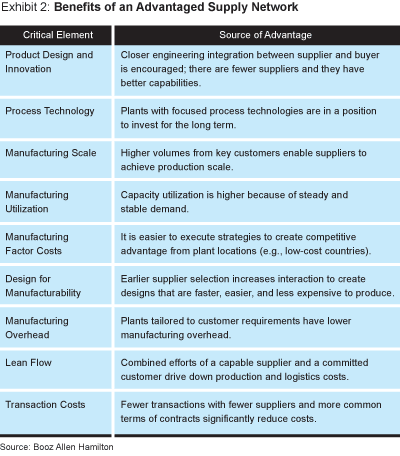 From the supplier's perspective, greater integration in the buyer's design process lowers the risks every supplier bears when bidding for a part. Just as important, design integration allows the buyer and its suppliers to work together to achieve the competitive imperatives of shortening time to market and reducing development costs.
The size of a supplier network will vary widely, depending on the individual company and the demands of its industry. Toyota's advantaged supply network has about 300 preferred suppliers. Frito-Lay's supplier network for potato chip production has fewer than 100, down from several hundred suppliers it used before its restructuring. Other networks might have fewer than 10 suppliers. The guiding principle is to maintain close relationships with a manageable number of key suppliers so the customer can benefit from a supplier's more efficient leverage of its process capabilities. For example, one of our clients consolidated its supply base and then developed a process technology with one of its suppliers.
Although it is true that a competitor can eventually copy any or all of the elements of a best-practice manufacturing model, the supplier with a "focused factory" (a factory that makes certain specialized parts as opposed to standard parts, and that has invested in process technology aligned with its focus) has an advantage that is difficult to replicate quickly. But to achieve this position, suppliers often need their customers' help. A supplier that picks up business one supply program at a time can only invest piecemeal in process technology, and therefore may never achieve competitive scale. Nor is it likely to be capable of building a plant in Michigan, China, or Mexico that can operate at the right scale, sustain high-capacity utilization, and have the best process technology for the particular type of plant.
Moving to an advantaged supply network also eliminates most of the cost of switching suppliers — and reduces the risks of regularly having to enter new relationships with unknown players. Who knows how often a buyer ends up with a supplier that won the contract by "buying" the business with the lowest bid, but didn't have the resources to fulfill the contract? These days, companies don't have the extra engineering resources to rescue such under-resourced suppliers; and most have trouble just supporting their own processes.
A supplier that is part of an advantaged supply network may try to co-locate design engineers with its customer's engineers, and use factories that are near its assembly plants for producing parts that are expensive to ship. Co-locating engineers becomes even more important when the strategy is to move production of certain parts to lower-cost countries.
The Fasteners' Tale
As an illustration of the impact of going from the transactional price-based model to an advantaged supply network, consider this true — and typical — tale of a company from our own experience in supply base management.