Mr. Rollins found many parallels between the creation of a new nation and the change process in a young company, including a similar selflessness in Dell's senior management team, which appealed to him. "We have always been trying to create something we haven't seen in other corporate models," he says. "We are iconoclastic. We know our model is different."
But as he examined Dell's culture, the only corporate value Mr. Rollins could clearly identify was its drive toward a "culture of winning."
Mr. Rollins says, "So I thought, Why not put some detail around our culture? We know our model to a gnat's eyebrow. But we didn't know our culture, except superficially."
In an interview earlier this year, Mr. Dell described this time in Dell's history as a period of "soul searching." "We had this incredible boom in the '90s, and a lot of people had made a lot of money, which in some ways hides a lot of problems," he said. "The dark side of the boom we pondered was the possibility that we had attracted a lot of people who thought they would get rich. And, if they all of a sudden thought they wouldn't get rich, then they'd wonder what they're doing here."
To help get beneath the surface of Dell's culture, and to learn more about the breadth of its values, Mr. Rollins turned to Paul McKinnon, an old friend and former academic specializing in organizational behavior, whom he had recruited in 1997 to head human resources. From the start, they understood the goal was not to create a new or different culture for Dell, but to adapt and enhance its positive elements.
"It's not that we didn't have a culture with the qualities that drive business success: We were performance-driven, cost-driven, built on speed, very low on politics," recalls Mr. McKinnon. "We just aspired to do better. Kevin started to revisit those old questions: What kind of company do we want to be? What is our aspiration? What would a new winning culture look like here at Dell?"
Of this line of questioning, the godfather of corporate culture, MIT's Ed Schein, observes that Dell's experience had more to do with maturation than with cultural change. "The question about Dell is, Was culture involved at all?" Professor Schein asks. "Changing 'purpose' or 'goals' does not necessarily involve culture. In fact, it may be the Dell culture itself that enabled the company to make the changes it has made in how
it operates."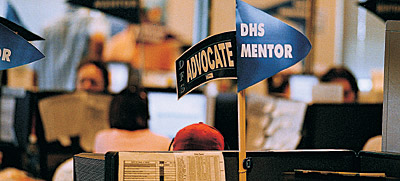 Slowing Growth
Whatever one labels its journey, Dell had an advantage over other companies that have embarked on similar efforts to understand and change their institutional behavior. Whereas a performance crisis is often the wake-up call that forces a company to attempt bold change, in 2000 Dell had not experienced a catastrophe. Although not achieving all of its business plan goals, the company was still more profitable than its major competitors, including Compaq, Hewlett-Packard, Sun Microsystems, and the relevant portions of IBM. Moreover, it gained market share in 2000 and 2001. Still, the slowing of Dell's historically rapid growth rate allowed the company the opportunity to step back and reflect on what its culture represented and what it really wanted to be.
In contrast to large industrial-age companies that struggle to adapt to the demands of today's competitive environment, Dell was naturally lean, fast, and entrepreneurial. These were the desired attributes of a large high-performance company in a high-speed and unpredictable business world. This spared Dell the pain and disruption of a major downsizing and restructuring as it dealt with change in its corporate culture.