For one U.S. automotive supplier a few years ago, it seemed that purchasing components from China was the right thing to do — and quickly. Manufacturers in virtually every industry were setting up shop in China; to read about it in the business press, every venture paid off. The industrial manufacturer, though, discovered to its dismay that success in China is not a sure thing. Enticed by attractive price quotes, the manufacturer failed to make completely sure that its Chinese partners could live up to its technical and logistical requirements. When the Chinese suppliers struggled to meet production schedules, the manufacturer was forced to use expensive airfreight. Quality issues also surfaced; the suppliers lacked the skills to maintain process control and implement engineering changes. The combination of problems eroded the expected cost savings. Ultimately, the automotive supplier reduced its Chinese procurement effort.
With Western companies rushing to China to fill gaps or strengthen links across their supply chains, one particular part of their operations — procurement — deserves special scrutiny. If approached with a rigorous evaluation of product characteristics, Chinese component purchasing can be the right answer for optimal management of the supply chain. When not well planned and carefully analyzed, sourcing in China can be the source of woe.
Gold Rush
The China "gold rush" grew out of a dilemma. In recent years, when companies examined their P&Ls, most found that purchased material was the largest line item — typically 40 to 70 percent of the total cost of goods. In the face of relentless market pressure to keep prices down, procurement often became a prime target for cost reductions. But that well, for many companies, has begun to run dry. Thus, businesses are increasingly looking to nondomestic sources to meet cost reduction demands.
Asia, especially China, is the most apparent solution. It has the cheapest labor, a pro-business environment, a productive work force, and strong government support for keeping domestic manufacturing operations as inexpensive as possible — a direct path to easy cost cutting.
The supply chain's headlong tilt toward China can be seen in the percentage share of supplier contracts awarded in the past six years. In 1998, at one U.S. auto manufacturer, U.S. and Canadian companies garnered 62 percent of all quotes and supplier contracts, and Asian (primarily Chinese) outfits only 4 percent. By 2002, the two regions were just about equal, with each enjoying about 30 percent of supplier contracts awarded.
This trend is not even near its peak yet. By 2008, auto and industrial products companies will more than double their percentage of spending on components and materials in low-cost countries (LCCs), according to a recent Booz Allen Hamilton survey of purchasing executives. Moreover, apparel companies, which currently spend 50 percent of their procurement dollars in LCCs, say that within four years, these countries will provide virtually all of their material and supply needs. (See Exhibit 1.) And for most companies, over half of the spending targeted for LCCs will be earmarked for China.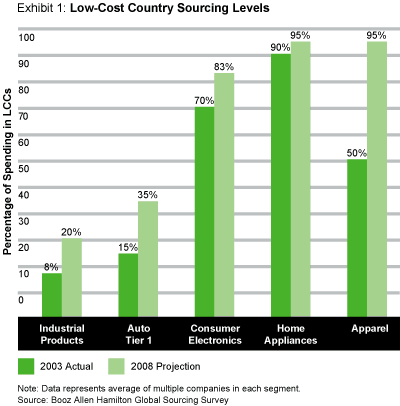 The Chinese experience can turn sour, though, when procurement managers fail to systematically assess the fit between the requirements for purchased components and the realities of the China-based supply chain. They can inadvertently increase their cost of operations and put revenue at risk — thereby compromising their profitability. Some commodities that are sourced in China, it turns out, can more wisely be procured from another low-cost region, or even from domestic sources.
Each of five critical dimensions must be examined for every prospective purchase of components and materials in order for a company to determine whether purchasing from China is the best decision. These dimensions include, naturally, manufacturing cost, but they add in transportation efficiency, lead time and scheduling stability, product design, and technical capabilities.