Filling positions with quality people is a challenge, and no one knows this better than Mr. Nardelli, the 56-year-old CEO. "It takes a certain kind of person to put up with the demands of the retail business," he says.
Few companies, even in retail, appear as dependent as Home Depot on their employees to close a transaction. Smart, courteous, and efficient employees are important to almost any company. But at Home Depot, salespeople need to go a step further to provide meaningful solutions to each individual — whether they are serving the classic "do it yourself" customer the company has always prized, or the newer "do it for me" kind of customer.
"When you think about Starbucks, 90 percent of the people who go in there already know what they're getting," says Eric Bosshard, who follows Home Depot for FTN Midwest Research, an institutional equity research firm based in Cleveland. "At Wal-Mart, you don't need someone to explain to you how the latest laundry detergent is used. At Home Depot, that's not the case. Shoppers go there as much for advice as for the product. Service is really key."
That's one reason Mr. Nardelli is promoting a decentralized human resources model, where HR professionals based in the stores rather than in a head-office human resources department handle training of store personnel. The company has also established the Leadership Development Institute, modeled on GE's Leadership Center at Crotonville, N.Y., which includes training for up-and-coming executives as well as a demanding 24-month leadership program for fast-track store managers. A one-week intensive course for district and sales managers uses common business school teaching techniques such as computer simulations and role-playing; assistant store managers are also attending the course.
"One of the biggest responsibilities I have is to take care of the human capital as well as the physical capital side. We're only as good as our worst shop assistant. You need to get together a group of people with real leadership skills and put them to work," Mr. Nardelli says.
Hard-Charging Change
When Bob Nardelli took over from Home Depot's founders, Bernard Marcus and Arthur Blank, he knew they would be a tough act to follow. An outsider with no retail experience entering a close-knit company, Mr. Nardelli had a background that included leading divisions of large multinational manufacturing companies — General Electric Company and the Case Corporation — that made things like appliances, construction equipment, and transportation systems, and that had very different cultures from Home Depot's. Moreover, he knew his exacting management and leadership style contrasted sharply with the nonconformist style of Messrs. Marcus and Blank.
In his favor, though, Mr. Nardelli, a hard-charging football and NASCAR racing enthusiast, was taking over a firm that was a winner with an enviable record of growth and profitability. From its beginnings in 1979 as a single-store and then a three-store operation in Atlanta, Home Depot never seemed to have a bad year. Even during the 1991–92 U.S. recession, sales kept soaring, and Home Depot kept opening more stores.
The company is now the second-largest retailer in the U.S. (behind Wal-Mart) and the largest home improvement retailer in the world. (See Exhibit 1.)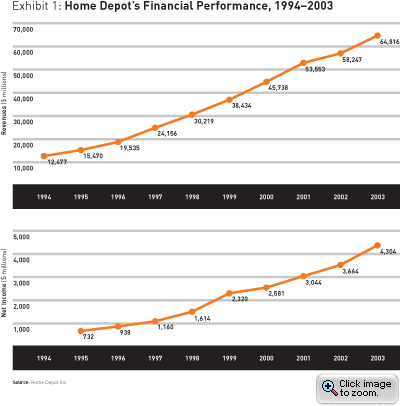 Although he knew that connecting with the people of Home Depot would be a challenge, Mr. Nardelli was not prepared for the cold reception that awaited him when he arrived at Atlanta headquarters. He was fresh with a new leader's enthusiasm for sharing ideas and for change, but employees didn't feel the same way. Why should they? The company was on a roll, morale was good, and there was no burning platform to ignite a desire to transform.