Mr. Nardelli, an energetic, compactly built man with a quick step and a ready smile, certainly appreciated Home Depot employees' ardor for their corporate culture. "I worked for an industrial icon, so was sensitized to that," he said, as he looked from his window at the Home Depot store across from headquarters during an interview in July 2004. Yet the employees' hostility to change upon his arrival didn't only make Mr. Nardelli uncomfortable; he knew it was dangerous for the company. Home Depot had reached a turning point. In 2000, rival big-box retailer Lowe's was starting to pose a real threat to Home Depot. The well-lit, clean Lowe's stores were especially appealing to women, and Home Depot was starting to feel the pinch.
Mr. Nardelli needed Home Depot employees to understand the looming Lowe's threat, and to be as motivated as he was to beat it. Getting employee support for his new strategy and management ideas, as well as training people at many levels to become better leaders and disciplined managers, were Mr. Nardelli's primary areas of focus, and he had the full support of the founders. Mr. Marcus sat in on important meetings with employees and financial analysts to help Mr. Nardelli ease his way into his new role and gain employees' trust. But even with Mr. Marcus by his side, Mr. Nardelli's suggestions didn't go over well, especially with store staff. He wanted to spruce up the stores, improve signage, and add such amenities as water fountains and food stands. To many store workers, all this seemed sacrilegious.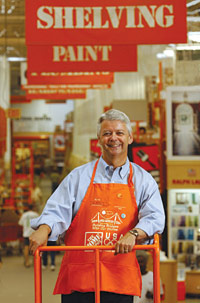 HR Chief
Recognizing that he had to win the hearts and minds of Home Depot's people, Mr. Nardelli determined that one of his first moves as CEO would be to hire a highly visible, experienced human resources executive to co-lead the charge for change with him. He knew exactly the person to ask: Dennis Donovan, a former colleague. The two men had worked closely together for years at GE Power Systems. When Mr. Nardelli was the unit's president, Mr. Donovan was the vice president of HR. He was known as a tough but highly motivational leader who had done his share of human transformations in several parts of GE. He knew what Home Depot was up against. "I've seen it many times. When you ask people in an organization to change, the reaction is to say, 'We're different' and 'You don't understand,' " says Mr. Donovan. "To which I respond, 'I do understand, and you're not different.' "
Mr. Nardelli offered Mr. Donovan the position of executive vice president of human resources, and employees were told that his job would be one of the most influential posts at Home Depot. In a concession as symbolic as it was compelling for Mr. Donovan, Mr. Nardelli offered him the second-highest salary in the company.
Mr. Donovan's responsibilities are so far-ranging that he's considered to be more of a chief operating officer than an HR leader. He is among a very new breed of "chief human resources officers" (CHROs), who are often handpicked by the CEO. Edward E. Lawler III, the founder of the University of Southern California's Center for Effective Organizations and a faculty member in the Management and Organization Department of USC's Marshall School of Business, describes CHROs as executives "who can provide leadership in the areas of human capital management, organization design, and effectiveness" and who "are involved in all areas of business decision making — whether it is a long-term strategic initiative, such as buying and integrating companies; or changes in the market and brand positioning; or ongoing operational concerns such as managing supplier relationships, communications, and customer service." (See "HR on Top," s+b, Summer 2004.)