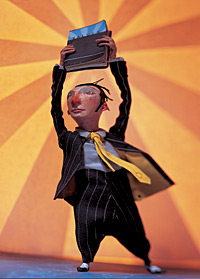 Corporate values are in vogue — but what does the fashion tell us about enduring corporate practice, as it is and as it could be?

Increasingly, companies around the world have adopted formal statements of corporate values, and senior executives now routinely identify ethical behavior, honesty, integrity, and social concerns as top issues on their companies' agendas.

The meaning of this new emphasis on values, however, is less obvious than the trend itself. So to explore how deeply these values are embedded in organizations and to examine the role that values are playing, in 2004 Booz Allen Hamilton and the Aspen Institute, a nonprofit and nonpartisan forum focused on values-based leadership and public policy, conducted a global study of corporations in 30 countries and five regions. Senior executives of 365 companies were polled, almost one-third of whom were CEOs or board members. (See "Methodology" at the end of this article.) The purpose of the survey was to examine the way companies define corporate values, to expand on research about the relationship of values to business performance, and to identify best practices for managing corporate values.

The survey's most significant finding was that a large number of companies are making their values explicit. That's a change — quite a significant change — from corporate practices 10 years ago. The ramifications of this shift are just beginning to be understood.

At Xerox, CEO Anne Mulcahy says that corporate values "helped save Xerox during the worst crisis in our history," and that "living our values" has been one of Xerox's five performance objectives for the past several years. These values — which include customer satisfaction, quality and excellence, premium return on assets, use of technology for market leadership, valuing employees, and corporate citizenship — are "far from words on a piece of paper. They are accompanied by specific objectives and hard measures," adds Ms. Mulcahy.

According to market and social trend analyst Daniel Yankelovich, the public's widespread cynicism toward businesses today is the third wave of public mistrust about corporations in the past 90 years. The first, set off by the Great Depression, continued until World War II; the second, caused in part by economic stagflation and the Vietnam War, lasted from the early 1960s until the early 1980s. In each of these periods, Dr. Yankelovich wrote in the May 2003 report "Making Trust a Competitive Asset: Breaking Out of Narrow Frameworks," companies tended to be reactive, blaming "a few bad apples," dismissing values as "not central to what we do," or ignoring opportunities to improve because "we don't have to make major changes."

The current wave of disapproval began in 2001 with the bursting of the dot-com bubble, the ensuing bear market, and the financial scandals involving Enron, WorldCom, Tyco, and others. But this time, according to the survey, the response appears to be different. More and more companies are looking inward to see what has gone wrong and looking outward for answers. They are questioning the quality of their management systems and their ability to inculcate and reinforce values that benefit the firm, its various constituencies, and the wider world. Rather than wall themselves off from critics, more companies are listening to them and looking for new ideas. And more firms are taking action to turn their corporation's values into a competitive asset.

If the new attention to values were simply a transitory reaction to the business scandals of recent years, or merely a public relations device to direct or deflect media and investor attention, it would be worth little note. But more companies are going well beyond simply displaying values statements: They are engaging in values-driven management improvement efforts. Among those efforts are training staff in values, appraising executives and staff on their adherence to values, and hiring organizational experts to help address how values affect corporate performance.