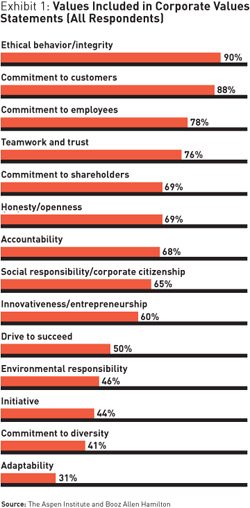 License to Operate
In recent years, Booz Allen and the Aspen Institute noticed a marked increase in discussions about the principles that govern commercial enterprises. Both organizations also realized that more research was needed to systematically identify how companies define, apply, measure, and benefit from their corporate values, and how this varies by region. Our survey was an attempt to begin to fill the gaps between a growing practice and its results.
The survey found that 89 percent of respondents globally possess written values statements, and that nearly three-quarters believe that both executives and employees are under significant pressure to demonstrate strong corporate values. The vast majority of respondents' corporate values statements — 90 percent — emphasize ethical behavior and integrity. This holds true whether the company is public or private, whether it is large or small, and regardless of its country of origin. (See Exhibit 1.)
Ethics-related language in formal statements has long been a priority for many business executives; in 1943, Johnson & Johnson promulgated its famed one-page Credo, which articulates the company's "first responsibility" to "the doctors, nurses and patients, to mothers and fathers and all others who use our products and services," as well as to "the men and women who work with us throughout the world," "the communities in which we live and work and to the world community as well," and "our stockholders." The prevalence of ethics-related language today appears, though, to do more than set corporate expectations for employee behavior; it is, effectively, a part of a company's license to operate in a more complex regulatory and legal environment.
The importance of these statements of belief has grown so quickly that many companies now can't imagine doing business without them. "We've developed a set of values that everyone understands and that have real meaning," says Lisa Colnett, human resources chief at Celestica, the Canadian electronics manufacturing company. "They are prescriptive and explicit and, at the same time, cover a wide range of stakeholders, including customers, employees, and shareholders. The point is, we are a global company and we want everyone to work together by the same sets of ethics and values to achieve the company's goals."
After ethics, the most prominent feature of corporate values statements is the set of values relating to company functions, rather than values that relate to the company's broader role in society. Commitment to customers, for example, is nearly as prominent in values statements as ethics, and commitment to employees and teamwork/trust are not far behind, with each articulated by more than 75 percent of companies. Social responsibility/corporate citizenship is cited by two-thirds of respondents, but environmental responsibility and commitment to diversity are articulated by fewer than half.
Interestingly, some of the values often closely associated with revenue or earnings growth — such as initiative, adaptability, and innovativeness — appear in only 30 to 60 percent of the respondents' formal values statements.

But "financial leaders" are different. We asked respondents to self-identify financial leadership (exceptional business results), and then tested the results by scrutinizing financial statements for the publicly traded companies. Among these confirmed financial leaders, 98 percent include ethical behavior/integrity in their values statements, compared with 88 percent for other surveyed public companies. Far more of the financial leaders include commitment to employees (88 percent versus 68 percent), honesty/openness (85 percent versus 47 percent), and drive to succeed (68 percent versus 29 percent). Forty-two percent of the financial leaders emphasize adaptability in their values statements, compared with a mere 9 percent of other public companies.
There are also striking regional differences in the values companies emphasize, which we believe reflect differing traditions and expectations about business's role in society. (See Exhibit 2.) Nearly three-quarters of Asia/Pacific firms include social responsibility/corporate citizenship in their values statements, followed by European firms at 69 percent. Only 58 percent of North American companies include social responsibility. Environmental responsibility also ranks significantly higher in Europe and Asia/Pacific than in North America. North American companies, however, are significantly more likely to cite ethical behavior than firms in Europe and Asia — a reflection, we believe, of both the recent attention to corporate scandals in the United States and media scrutiny of business in the U.S.