Of particular interest is the discovery that some of the values most closely linked to growth and performance and conventionally associated with American culture are more esteemed outside the U.S. For example, almost three-quarters of European companies value innovativeness and entrepreneurship; only half of U.S. companies articulate this principle — a counterintuitive finding that should prompt introspection among American executives.
Values in Action
The last three years have seen a relentless succession of stories about the harm companies and their shareholders have suffered from ethical breaches and noncompliance with regulatory standards and legal norms. Billion-dollar fines, protracted lawsuits, criminal convictions of executives, severely tarnished corporate reputations — even the evaporation of large companies — have become distressingly familiar. Given the frequency and notoriety of the scandals, it is perhaps not a surprise that a huge segment of the respondents believe that articulated values are essential to mitigating legal and regulatory risk. Ninety percent agree that a strong corporate statement addressing ethical values is critical in encouraging individual employees to take appropriate actions and to inform their managers when something seems wrong. Eighty-one percent say they have management practices in place that are "considerably effective" or "very effective" in fostering ethical behavior and integrity among individuals.
However, the benefits of corporate values transcend legal and regulatory compliance. We asked executives to specify the factors that are important to their business strategy, and also to pinpoint which of those factors can be affected positively by the active management of values. Their responses show clearly that values are deemed most critical in two strategic areas: reputation and relationships. Strong brand equity and the overall standing of the company correlate highly with a commitment to corporate values. So does the robustness of the firm's associations across its extended enterprise, from suppliers to employees to customers. (See Exhibit 3.)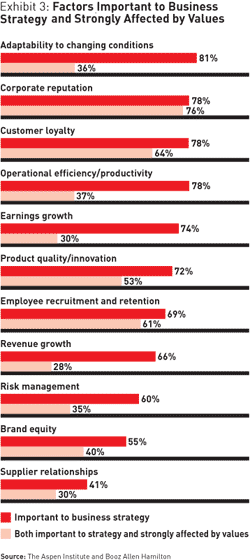 Although previous studies have shown a strong relationship between values-based management and risk management, our findings were ambiguous. The lack of awareness by companies of the relationship between values and risk management is puzzling. In recent years, companies around the world have understood and acted on risks that exist outside the traditional confines of financial risk and operating risk. Today, firms spend abundantly to protect against reputation risk; the "war for talent" among companies has made them aware of the importance of their work forces, their capabilities, and worker replacement costs — another form of risk. Recent client work by Booz Allen demonstrates that risk management is important both in protecting against potential problems and in taking advantage of opportunities. Of the top 20 enterprise risks measured on shareholder-value impact in one recent case, more than half involved corporate reputation; brand; or relationships with suppliers, customers, and employees — all elements that companies in this survey cited as being strongly affected by values. In light of the massive shareholder destruction that has taken place over the last several years, we find it troubling that more companies do not recognize the existence of the relationship between articulated values and risk management.
Financial leaders appear to be doing a better job than other companies in linking corporate values to corporate operations. For example, nearly all financial leaders (94 percent) say they have practices in place to ensure that their values are aligned with those of their suppliers, distributors, and partners, whereas only 64 percent of other public companies do. Financial leaders are also significantly more likely to report that their management practices are effective in fostering a variety of behaviors related to better business performance — including the core operating behaviors that influence growth. Seventy-five percent, for example, say their management practices are very effective in encouraging teamwork and trust, compared with fewer than half of the other public companies. About 60 percent of the financial leaders say their practices are very effective in promoting initiative, adaptability, and innovativeness/entrepreneurship, compared with about 30 percent for the other public companies.