Financial leaders also believe social responsibility and environmental responsibility have a positive financial impact. Nearly half (49 percent) believe that environmental responsibility has a positive impact on financial performance in the short run, compared with 34 percent for the other public companies. Sixty-six percent of financial leaders see a positive short-term impact from social responsibility, compared with 54 percent for other public companies.
Measuring Return
It's possible that a majority of companies have difficulty connecting values to operational results because values such as honesty/openness, initiative, and entrepreneurship seem intangible. Even the most advanced nonfinancial measurement tools are still quite limited in their ability to show a clear connection between principles, such as trust, and business goals, such as adaptability, efficiency, and growth in revenue and earnings.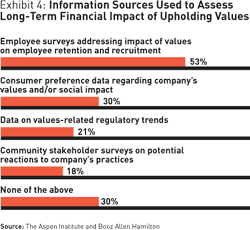 More than two-thirds of companies report that they collect some form of information for assessing the long-term financial impact of upholding values. However, there is little commonality among these companies as to the type of information collected. (See Exhibit 4.)
Measurement is most commonly used to assess how values affect employee retention and recruitment: More than half of respondents indicate that their companies address the issue by employee satisfaction surveys. However, many such surveys are limited in their scope, measuring only satisfaction, and missing the opportunity to measure the degree to which values are embedded in everyday action. As a result, such surveys may be failing to capture important information about people, performance, and strategy.
Indeed, metrics are distinguished more by what is missing than by what is present. Even activities that respond well to values-based management are infrequently measured. For example, although nearly two-thirds of respondents agree that values can strongly affect customer loyalty, far fewer actually measure their customers' attitudes toward and perceptions of their values. Fewer than one-third of companies use consumer preference data regarding their company's values and/or social impact. And in their strategic planning process, fewer than one-quarter use customer preference models to assess the impact of upholding corporate values.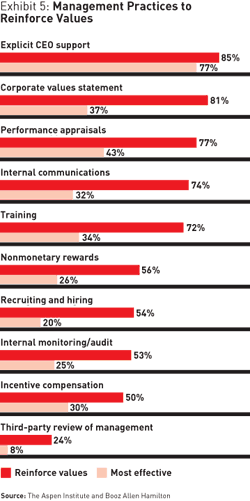 Practice Makes Perfect
How do companies align values and strategy? In other words, which management practices reinforce values in the organization and which factors enable executives to make decisions consistent with their corporate values? Our survey shows that the behavior of the chief executive officer is critical.
Eighty-five percent of the respondents say their companies rely on explicit CEO support to reinforce values, and 77 percent say CEO support is one of the "most effective" practices for reinforcing the company's ability to act on its values. (See Exhibit 5.) It is the leading choice across geographies and industries, regardless of company size. In contrast, although a substantial majority of the respondents say they use practices such as corporate values statements, performance appraisals, internal communications, and training to reinforce values, fewer than half call these practices the "most effective."
Why do companies continue to employ these practices if they are not as effective as CEO support? Like any other business objective, successful management of values cannot be executed through a strong top leader alone; it also requires a "virtuous circle" of management where dispersed leadership, strategy, practice, and measurement are mutually reinforcing.
For example, although only 37 percent of companies see a values statement as one of the "most effective" practices in and of itself, 81 percent still feel the need for such a statement, in part because it is the basis for reinforcing other, sometimes more important, practices. (For a chief executive to show explicit support for the company's values, for example, it helps to have a values statement to which the CEO can refer.) Similarly, if performance appraisals nominally include values, but there is no senior support behind them, then they are likely to be empty words on a piece of paper. And if the CEO is communicating a set of values, but performance appraisals undermine his or her message, the CEO's communication is less effective.