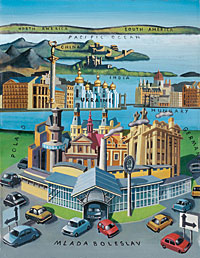 In December 2005, in the small Czech town of Mladá Boleslav, Skoda Auto will celebrate 110 years of existence and 100 years of car production. This small Eastern European company, almost unknown in North America, is not only the world's third-oldest car manufacturer, but also one of the fastest-growing global automobile brands, particularly in the emerging economies of Asia and the Middle East. "1905 marked the first and last year we exported to Japan," jokes Vratislav Kulhanek, a former chairman of Skoda, who now heads the carmaker's supervisory board. He can afford to joke; the company is presently negotiating to sell Skoda designs to Chinese carmakers, while pushing deeper into the Indian car market and preparing for entrance into Iranian and Arab markets. Meanwhile, Skoda (pronounced "shkoda") has carved out significant market share in Britain, Germany, and Scandinavia. It is growing in Italy and France, and continues to be one of the dominant carmakers in the former Communist bloc. Its strategy — to become "the Ikea of carmaking," as one Skoda executive puts it — builds on its existing post–Cold War reputation as a maker of inexpensive but strikingly functional small cars.
Skoda certainly faces its challenges — including a fraud and bribery scandal that erupted just as this article went to press, and that threatens to engulf the Czech car company and its corporate parent, Volkswagen AG, in months of investigations and controversy. But however that scandal evolves, there is also a fundamental story to tell about the company's strategic position — as the most successful and globally oriented manufacturer to emerge in any category from a former iron curtain country. With sales in 85 countries (not including the U.S. or Canada, where its cars are not sold), Skoda is being closely watched as an emerging worldwide brand in the rapidly maturing, ruthlessly consolidating, and already oversupplied automobile industry. In short, Skoda has found a way to capitalize on its past strengths while transcending many of its historical weaknesses — a skill that would benefit any brand. The next few years will tell whether Skoda is an anomaly or a demonstration that former Communist-controlled enterprises can thrive in a capitalist economy. If Skoda can do it, others can too.
One would have to search widely to find a viable company today with a political history as turbulent as that of Skoda. It began operations in 1895, making bicycles and motorcycles; in 1905, its first production car, the stately Voiturette, was pushed out of its original workshop. In its early years, the company made luxury cars. Then it survived the collapse of the Austro-Hungarian Empire, the creation and rise of Czechoslovakia, the invasion of Czechoslovakia by Nazi Germany, the 1948 Communist takeover, the 1968 Soviet invasion, the 1989 revolution that overthrew Communism and introduced the free market, the 1993 split of Czechoslovakia into two independent countries (the Czech Republic and Slovakia), and the 2004 entry of the Czech Republic into the European Union. Skoda also survived being swallowed in 1991 by an entirely different type of autocratic regime: Volkswagen. That company, which is partly owned by the provincial government of Lower Saxony, is known for its committee-based management style, its insular culture, its innovative designs, its intimate labor relations, and its long-standing identity as the largest European automaker.
Volkswagen, of course, has its own turbulent past: founded by 19th-century master engineer Ferdinand Porsche, adopted as the Third Reich's car company by Adolf Hitler, and then, with the popular Volkswagen Beetle, revived as the populist carmaker of postwar democracies. Unlike Renault, the French carmaker, which made a bid at the same time, Volkswagen didn't propose to buy Skoda and merge it with VW's operations; instead, it acknowledged that Skoda had been a great carmaker before the Nazis and the Communists got hold of it, and that it could be a great carmaker again.