Our saturation point model has been consistently robust in predicting ad spending by brand and, we believe, in estimating advertising saturation points. The model explains 85 percent or more of the differences among automobile brands' actual advertising budgets, and it helps to identify, in the remaining 15 percent, whether the automobile company is overspending or underspending. (See Exhibit 1.) The three variables highlighted by the model — the number of nameplates supported by the brand, the number of nameplates launched or refreshed, and the market share — are thus the primary factors worth considering in planning ad budgets. Other factors, such as creative quality and media mix, often occupy discussions about advertising that are disproportionate to their actual influence. They should be secondary considerations, at best, when an automobile company is strategically setting the targets for advertising spend.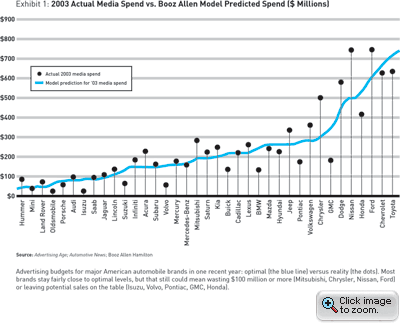 The Automaker's Dilemma
Several billion dollars' worth of discretionary advertising budgets, and conceivably the health of the auto industry, are at stake. Automobile manufacturers, dealers, and component makers typically account for more than 25 percent of the total amount spent overall on advertising in any given year in the U.S., more than any other single business category, including packaged goods. And the amount of money the industry spends has steadily grown at least 14 percent each year, from $700 million in 1985 to nearly $11 billion in 2005 — almost a 15-fold increase.
Why so much? First, advertising prices in major media have risen about 7 to 8 percent per year, driven by mainstream broadcasters who, so far at least, have been able to compensate for the revenues lost to cable programming and the Internet by raising their own rates. Second, with an oversupply of automobiles on the market, many motor vehicle manufacturers have stepped up their advertising to try to take market share from their competitors. If this trend continues, a car manufacturer might spend 10 times as much in 2007 as it did in 2000 to advertise a similar lineup of vehicles.
The understandable concern among auto executives is evident not just in conversation, but in the growing number of trade magazine articles (more than 3,000 in 2003, a sixfold increase over 1995) mentioning the cost of advertising. Coming at a time of intense pressure to cut costs and improve profitability, the general increase in advertising spend has led motor vehicle company leaders to examine their advertising budgets more closely. But they face the challenge of finding an objective standard by which to evaluate those budgets. How much is enough?
Automobile advertising represents a rich venue for research. Not only are there a lot of car ads, but they are tracked in a relatively transparent manner. Twice each year, the trade magazine Advertising Age publishes competitive research statistics showing media expenditures for each major vehicle brand (Toyota, Chevrolet, Lincoln, Volkswagen, etc.), broken down by category of spend. These statistics cover all advertising placed by manufacturers alone. (These are largely generic ads: "Buy this car.") They also include ads placed by manufacturers in association with dealers. (These ads typically focus on particular sales events: "Buy this car on sale now.") The Ad Age statistics specifically exclude ads placed just by dealers ("Buy this car here"), which makes the statistics even more useful for evaluating manufacturers' budgets.
The advertising saturation point is also easier to discern for an automobile brand than it would be for many other consumer product brands, because the cost of purchase is so great. Automobiles are not like beer or cereal; customers don't buy them on impulse. Though automakers try to distinguish brands with lifestyle ads and emotional imagery, customers make their purchase decisions with a relatively high level of rationality. They decide what kind of car they need, and then choose a brand on the basis of their own experience with the vehicles, the experience of people they know, and the reports of a few trusted guides (like Consumer Reports or J.D. Power and Associates). Switching from one car brand to another is a bigger deal than switching soap brands; thus it's easier to correlate changes in market share with changes in advertising spend patterns.