Nonetheless, past advertising budgets in the motor vehicle industry have not been set strategically. Chief executive officers, chief financial officers, and other decision makers in auto companies give a great deal of time and thought to setting the price points for their vehicles. They build in-depth analytic models, running multiple scenarios for each product line, vehicle configuration, and promotion, before making a decision. Not so for advertising spend. These same executives, when considering their advertising budgets, might typically ask only, "How much did we spend last year? What do we think our competitors will do next year? How much out of each car's retail price do we put into advertising this year?" If times are tight, they might cut $100 million from the overall budget; in flush years, they might put back $50 million or start a new campaign.
In short, managers often base their ad spending on what they think they can afford, and on their perceived need to outspend the competition, rather than on the amount needed to produce maximum market share. Hence the dilemma they feel: To keep up with their competitors, they believe they have to spend more simply to remain in the same place.
Yet there is no guarantee that auto brands that spend more than their competitors will increase their customer base. During the six years we studied, 1998 through 2003, many brands with "excess" media spending did indeed grow on average in market share. But so did some of their counterparts with less spending. For example, Ford and Chevrolet both spent close to the predicted optimum levels for their brands, but with widely divergent results. The same is true for Dodge and Kia, Lincoln and Toyota, and Pontiac and Hyundai. The two factors — market share change and media spend levels in excess of the prediction by the model — did not directly correlate. (See Exhibit 2.)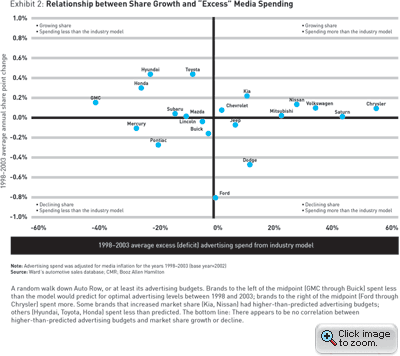 Trials and Errors
How, then, can an automaker (or other manufacturer) identify the "optimal" advertising spend level for its products? At first glance, it should be simple. Just continue to increase the advertising budget as long as the margin from incremental new sales is greater than the incremental costs. In the auto industry, for example, if another $10,000 in advertising spend leads to sales of 100 more vehicles, and if the incremental profit from each of those vehicles averages more than $100, then you can credit your company with a worthwhile advertising increase.
But many factors influence sales levels, including competitors' strategies. To analyze those factors with enough accuracy to design an advertising campaign effectively, you would need to conduct a series of experiments: varying both the amount spent on advertising and the mix of advertising media from one region to the next, and measuring the resulting impact on sales. This in turn would require a disciplined scientific approach. Retailers, distributors, ad agencies, and other local associates would have to sign up as willing partners in both the experimental groups (with heavier advertising) and the control groups (with lighter advertising), even if that meant inequitable marketing support and diminished revenues in the short run. Even with these controls, the experiments would need to be conducted many times to negate the potential impact of varying creative quality. These kinds of difficulties have generally precluded the adoption of well-defined experiments to accurately measure the marginal impact of advertising.
Instead, in practice, companies take a "trial and error" approach. Each change in ad spending is essentially the start of an informal experiment. When sales figures come back, the results of the experiment are known. Since ad spending levels change whenever products are launched or new dealer association campaigns begin, most brands provide their executives with a large base of informal experiments with which to build their judgment. The feedback cycle is fast, which also improves the quality of judgment. As the head of marketing at one major auto manufacturer told us, "It varies by vehicle, but I often know in a week or two whether I've got my ad spending levels wrong."