Perhaps this belief is a holdover from the past. When products were simpler, industrial processes less mature, and competition less fierce, companies could make new products and be reasonably certain that their customers would buy them. The R&D, manufacturing, marketing, and sales silos could do their jobs independently with little imperative to manage across departmental boundaries.
We no longer live in that world. Shorter product life cycles have led to an ever-faster flow of new offerings. Customer demands for special features have generated enormous complexity. In turn, these factors have increased the competitive value of a fast and effective innovation engine. Yet of all the core functions of most companies, innovation may be managed with the least consistency and discipline.
The comparison of R&D investment with economic performance provides a lens through which we can judge the innovation effectiveness of the Global Innovation 1000. Despite significant variation in innovation investment levels, the sheer magnitude of these companies' spending leaves little doubt that they are committed to innovation. But the disconnect between R&D investment and performance levels demonstrates that commitment is no guarantee of success.
Happily, the analysis of top performers offers important clues on how to increase innovation effectiveness. It suggests that organizations — and nations, for that matter — hoping to gain an innovation edge will need to rely less on faith and more on creativity, analysis, and disciplined management.

A Thousand Top Spenders
In mid-2005, hoping to better understand how organizations can maximize their return on innovation investment, we undertook an analysis of the world's top 1,000 corporate spenders on research and development. Since such an analytic undertaking demands a broad range of comparable data on R&D spending and financial performance over time, we focused on publicly traded corporations. The top 1,000 companies were ranked on the basis of the R&D spending reported in their 2004 financial statements. Consequently, the Global Innovation 1000 omits privately held firms, along with publicly traded firms that do not disclose their R&D spend. For this reason, most financial-services companies and retailers were excluded. (For more on the study, see "Booz Allen Hamilton Global Innovation 1000: Study Methodology," below.)
The Global Innovation 1000 spent $384 billion on R&D in 2004, representing 6.5 percent per annum growth since 1999. And the pace is increasing — measured from 2002, the annual growth rate jumps to 11.0 percent. R&D spend appears to be highly concentrated. The top 2,000 corporate R&D spenders spent $410 billion — only $26 billion, or 6.8 percent, more than the Global Innovation 1000. We estimate that the Global Innovation 1000 list captures between 80 and 90 percent of total global corporate R&D spending, and around 60 percent of total global R&D, including that conducted by governments. (For a detailed look at the Global Innovation 1000, see "Profiling the Booz Allen Hamilton Global Innovation 1000," below.)
Profiling the Booz Allen Hamilton Global Innovation 1000
The Booz Allen Hamilton Global Innovation 1000 is a diverse yet exclusive club. Individual company research and development spending ranges from a high of nearly $8 billion (Microsoft, #1) to a low of $39 million (McCormick & Company, #1000). As that range suggests, the Global Innovation 1000's R&D spending profile is highly concentrated, with the top 100 organizations accounting for 64 percent of the total outlay.
On average, the Global 1000 companies spend 4.2 percent of their revenue on R&D. This average has been relatively stable over the last five years, ranging from 4.0 percent to 4.4 percent, and even more stable over the last three years, ranging from 4.2 percent to 4.4 percent.
Industry Breakdowns
R&D spending is heavily concentrated in the technology, health, and automotive sectors. (See Exhibit A.) Computing and electronics tops the list, with 25 percent of total spend; health follows, with 21 percent; and automotive, with 18 percent.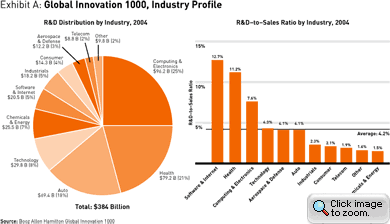 Software and Internet at 15.0 percent per annum and health at 12.4 percent have demonstrated the fastest pace of five-year R&D growth, while telecom (2.2 percent) and chemicals and energy (1.4 percent) have grown the slowest.
The R&D-to-sales ratio — a measure that illustrates the importance of R&D to an industry or enterprise — shows huge variations. We see on average software and Internet (12.7 percent) and health (11.2 percent) outspending consumer (2.1 percent) and chemicals and energy (1.5 percent). Furthermore, we have seen the gap between high-spending industries and low-spending ones widen as R&D-to-sales ratios in both the software and Internet and health sectors have grown, while those for chemicals and industrials have declined.
Regional Breakdowns
Since companies rarely disclose the geographic breakdown of their R&D, this study assigns R&D to the region in which the corporate headquarters is located (see "Booz Allen Hamilton Global Innovation 1000: Study Methodology," below). As a result, it is difficult to draw a truly definitive picture of where R&D money is being spent.
We do, however, see some regional differences in the data. (See Exhibit B.) Although companies headquartered in North America, Europe, and Japan account for 96.8 percent of the Global Innovation 1000's R&D spend and are likely to remain dominant players for the foreseeable future, companies from China, India, and the rest of the world are turning up the volume on R&D spend. (For more on this, see "China's Five Surprises," by Edward Tse, s+b, Winter 2005.) The lower five-year growth rates in North America (6.6 percent), Europe (6.2 percent), and Japan (4.8 percent) are probably functions of the relative maturity of these companies and the magnitude of their current spending. The differences among the three main spending regions are partially explained by differences in industry mix, with lower-growth automotive and consumer electronics in Japan and higher-growth software and health in North America and Europe.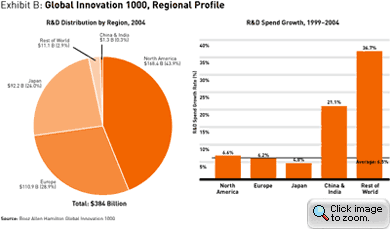 Regional disparities also exist on R&D-to-sales ratios. Here China and India lag, spending only 1.0 percent of company revenue on R&D, compared with 4.9 percent for North America, 4.0 percent for Europe, and 3.8 percent for Japan.
One clear trend is the rapid expansion of worldwide investment in innovation. Large companies are increasingly targeting R&D away from headquarters and toward local markets and development partners. Although that trend is not necessarily reflected in publicly reported R&D numbers (which list companies according to their headquarters location), it is evident in the activities of the top-spending companies themselves. For example, only one of the top 10 R&D spenders has opened a new facility in the United States recently, and only two have opened facilities in Europe. (See Exhibit C.)