---
Of all the performance measures we studied, gross margin percentage is most subject to the control of, and influenced by the skills of, the R&D silo. Researchers on innovation have long known that 70 percent of the final cost of a product (the cost reflected in gross margin) is driven by R&D-based design decisions, such as the degree of standardization of parts, the specifications that determine which suppliers will be used, and the level of complexity in a product's feature set. In this study, the correlation of gross margin with R&D spending shows that the R&D silo is succeeding in the traditional but narrow role of making "better mousetraps": products and services that are less expensive to build (like a Dell computer), desirable enough to sell at a premium (like a BMW car), or both (like an Apple iPod).
But these better mousetraps aren't catching more mice. The products and services created have not universally led to improved enterprise performance. Once you add in all the expenses not directly related to the creation of the product or service — marketing, sales, and the rest of the general and administrative expenses — the gross margin benefit is masked and the relationship between spending and performance disappears.
The story of Sony (#14) and its Betamax videotape format is a classic example. Higher-quality Betamax lost to VHS primarily because more companies supported the latter format — a factor that had nothing to do with R&D spending per se. No doubt the Betamax recorders sold delivered an attractive gross margin, but not enough were sold to boost Sony's results materially.
Particularly in the technology sector, the high quality of a product or service design may blind companies to the gaps in the rest of their system. In short, when a company is seeking to grow through innovation, it's more important to develop a robust business model and good cross-functional capabilities than to boost the R&D budget. (For another example, see "Flying Blind," by Nicholas G. Carr, s+b, Winter 2005.)
Size Matters
A lot has been written about the advantages of the nimble newcomer. Counter to popular belief, however, the data suggests that incumbency has a big advantage as well: scale.
Companies that are larger than median (on the basis of sales) tend to spend a smaller proportion of sales on R&D than do smaller-than-median ones. (See Exhibit 3.) In fact, the industry-indexed R&D-to-sales ratio for the Global Innovation 1000's bottom 500 companies ranked on sales is 2.3 times that of the top 500 companies. On an industry basis, nine out of 10 of our industries showed this pattern. For example, consumer products companies with larger-than-median revenues are more than twice as likely to be in the lower half of companies ranked on R&D-to-sales ratios.
---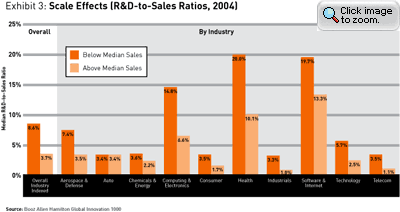 R&D-to-sales ratios show the proportion of revenue that a company devotes to innovation. In nine out of 10 industries, smaller companies (the dark bars) spent proportionally more on R&D in 2004 than did their larger competitors (the light bars). Such a pattern suggests the value of scale: To achieve the minimum innovation ante for their industry, smaller companies must devote a greater percentage of their revenue to R&D.
---
Although bigger companies tend to spend proportionally less, they are not penalized for their thrift. Their performance on such measures as sales growth, profitability, and market value growth is statistically indistinguishable from that of the smaller, relatively higher-spending firms.
Too Rich or Too Thin
If spending more doesn't get you more, is it time to cut budgets? Maybe, but with great care. There are signs that both overspending and underspending may contribute to the performance disconnect in the Global Innovation 1000.