Companies in the bottom 10 percent of indexed R&D-to-sales ratios do worse than others. They underperform spenders in both the top 10 percent and the middle 80 percent on gross margins, gross profit, and shareholder returns. (See Exhibit 4.) But we found signs that the top 10 percent of the Global Innovation 1000 may be spending too lavishly as well. Although there are performance differences between the top 10 percent and the middle 80 percent, none are statistically significant.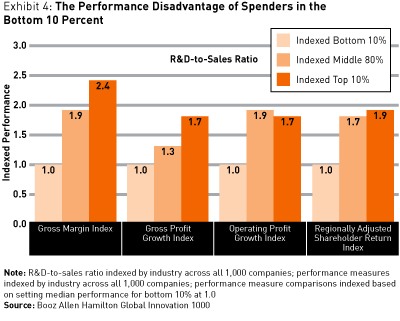 These results offer one clear lesson: avoid being either a top or a bottom spender unless you have a clear and compelling rationale. Companies, for example, might overspend for a time to stake out a leadership position in a critical emerging technology; they might underspend for a time to concentrate scarce resources on a major product launch. Once these time-limited objectives are met, however, companies will generally be better off returning to a more moderate spending level.
Broader use of partnerships to share investment costs and spread risks can help bring spending levels down; so can being open to ideas that come from outside the corporation. (For example, the development and use of global and/or cross-company innovation networks — a practice known as open innovation — enables companies to access critical innovation capabilities and to pool resources to achieve virtual scale.) These approaches can help big spenders cut back, and can provide critical leverage to smaller firms seeking to overcome their innovation scale disadvantage.
We all can think of examples of once-great companies with a history of innovation and a culture of R&D that have little to show for their above-average investment in R&D. The Palo Alto Research Center at Xerox (#101), Xerox PARC, was fabled for its breakthrough innovations, but few ever benefited Xerox's shareholders. Its most famous invention, the graphical user interface, was commercialized first by Apple (#148) and then by Microsoft (#1). Its invention of the Ethernet protocol for computer communications was a boon to 3Com (#527). Likewise, Bell Labs was a national asset. In the early 1980s, just prior to the court-ordered breakup of its parent company, AT&T, it spent $2 billion a year on R&D. During its 80-year history, Bell Labs scientists created the transistor, the communications satellite, the laser, and Unix — yet firms other than Ma Bell reaped the primary economic benefit of these inventions.
These findings seem to suggest that at any given time there's only so much research that a company can nurture and commercialize. Beyond that, the company provides a public service — valuable to society perhaps, but not to its shareholders. These findings also help explain why in a separate study we found no relationship between the number of patents issued to an organization and its business results. (See Exhibit 5.)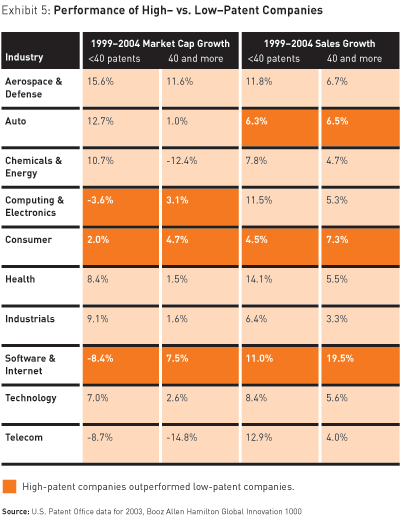 How Much Is Enough?
Optimizing innovation spending is difficult, but it is essential to achieving an attractive ROI2. The data demonstrates the difficulty. Were there clear industry norms for R&D spend — a sense of "what worked" — we would expect R&D spend for any industry, over time, to cluster around some mean. None of the Global Innovation 1000 industries show this pattern, suggesting that even the largest R&D spenders are struggling to find their ideal investment level.
Perhaps when executives have greater insight into the real drivers of innovation performance, we will start to see a clearer pattern. For example, as marketing analytics have become more sophisticated, marketing budgets have increasingly gravitated toward an optimal level. The same may ultimately happen for R&D and innovation budgets, but there's no sign of it to date.
Processes, Not Pocketbooks
The potential overspending identified in this study resonates with prior research by Booz Allen Hamilton Vice President Alexander Kandybin ("Raising Your Return on Innovation Investment," s+b, Summer 2004) demonstrating that financial returns on innovation investment depend on the effectiveness of innovation processes: the way a company generates, selects, develops, and commercializes ideas. The innovation effectiveness at Toyota (#5) is a benchmark for competitors, yet Toyota is only the third-highest spender in the auto industry. The company's focus on product and process excellence has resulted in the shortest development cycle time in the industry, the leadership position in hybrid technology, and a market value (in October 2005) greater than that of the next three largest vehicle manufacturers (ranked by market capitalization) combined ($167 billion versus $160 billion).