Top 20 R&D Spenders, 2004
Representing $111 billion, or 28 percent of total Global Innovation 1000 R&D spend, the Top 20 companies are largely North American and European. Four are Japanese, and one, Samsung, is Korean.
The Top 20 have an average R&D-to-sales ratio (7 percent) nearly twice that of the next 980 companies (3.6 percent). This difference is driven primarily by the prevalence of computing and health firms in the Top 20.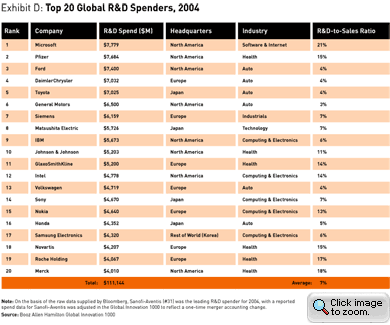 Booz Allen Hamilton Global Innovation 1000: Study Methodology
Booz Allen Hamilton identified the 1,000 public companies around the world for which data on R&D spending was publicly available that spent the most on R&D in 2004. Companies with noncalendar fiscal years were coded as 2004 when (1) their fiscal years ended before June 2005, and (2) their FY2005 results were available; otherwise, their 2004 fiscal year results were used.
We then obtained a variety of financial metrics for the Global Innovation 1000 going back six years: revenue, gross profit, SG&A (selling, general, and administrative) expenses, operating profit, net profit, capital expenditures, and historical R&D spending. We also added six years of shareholder value measures to the data set, including total shareholder return (TSR) and market value.
Each company was coded into one of 10 industry sectors (or "other") according to Bloomberg's industry designations, and into six country or regional designations according to reported headquarters locations for each company. This approach means that, for example, Chrysler's R&D, though largely conducted in the United States, is reported to be in Europe given that DaimlerChrysler (#4) is headquartered in Germany and our practice is not to include consolidated subsidiaries in our rankings. This was the best possible approach, since R&D spending is only rarely broken out by subsidiary or region in corporate financial statements.
To enable meaningful comparisons across industries on R&D spending levels, we indexed the R&D spending level for each industry against the median R&D spending level for that industry. Similarly, to avoid having the shareholder returns analysis be skewed by differences in performance across regional stock markets, we adjusted shareholder returns data to show each corporation's performance relative to that of a leading index of its regional market. (All data on R&D spending and financial metrics came from Bloomberg's data bank of publicly filed financial statements; shareholder-related measures came from Datastream.)
Reprint No. 05406
---
Barry Jaruzelski
(
[email protected]
) is a vice president with Booz Allen Hamilton in New York. He concentrates on corporate strategy, organizational transformation, and time-to-market improvement for companies in high-technology industries and manufacturers of highly engineered products.
---
Kevin Dehoff
(
[email protected]
), a vice president with Booz Allen Hamilton in New York, is the global leader of the firm's innovation service offering. He has spent more than 13 years helping clients improve efficiency and effectiveness in product development.
---
Rakesh Bordia
(
[email protected]
) is a senior associate with Booz Allen Hamilton in New York. He specializes in improving innovation effectiveness and efficiency for clients in engineered products industries.
---
The authors thank Matthew Clark and Alexander Kandybin for their contributions to this article.