Professor Sachs compares modern development policies and practices to 18th-century quack medicine. What is urgently needed, he suggests, is the economic equivalent of clinical medicine, with its five key assumptions: the human body is a complex system (causality is never simple), complexity requires a differential diagnosis (similar symptoms may have many different causes), all medicine is family medicine (there are no magic bullets), monitoring and evaluation are essential to successful treatment, and medicine is a profession requiring strong norms, ethics, and codes of conduct.
Early on in his work in Bolivia, the author describes his revelation upon reading, in a colleague's paper, that many of Bolivia's problems stemmed from its mountainous, landlocked location and resulting high transportation costs — factors wholly ignored in IMF-style analysis. Contrasting the one-size-fits-all policies of the IMF with the diagnostic approach employed in medicine, Professor Sachs argues that on-the-ground knowledge and keen attention to localized symptoms and systems are essential to successful development.
His grasp of the issues of development — honed through years of fieldwork — is authoritative. He is able to describe firsthand change in countries like Poland, Russia, China, and India, before he turns to Africa and outlines the dynamics of the world's worst poverty traps. Whereas many might write off the business potential of regions that seem hopelessly mired in poverty and corruption, Professor Sachs reminds us that Europe faced what appeared to be insoluble problems as recently as 60 years ago. When Adam Smith and John Maynard Keynes wrote their famous economics works, poverty was endemic to Europe. The key to success in Europe, as in the Americas and Asia, has been sensible economic and political policies together with the cancellation of unpayable debt. Professor Sachs makes a convincing case that these measures can bring similar results today in even the most poverty-stricken regions.
Elevating Enterprise
The private sector has an essential role to play in lifting the developing world out of poverty, but it must be provided with the tools to do so. Two business professors take up the theme of sustainable capitalism in books that are strong complements to The End of Poverty.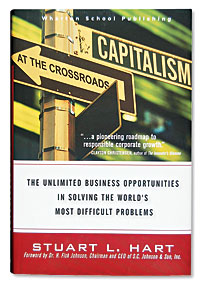 Capitalism at the Crossroads: The Unlimited Business Opportunities in Solving the World's Most Difficult Problems, by Cornell University Johnson School of Management professor Stuart L. Hart (Wharton School Publishing, 2005), and The Fortune at the Bottom of the Pyramid: Eradicating Poverty Through Profits, by University of Michigan professor C.K. Prahalad (Wharton School Publishing, 2005), both show how multinational corporations can develop new growth markets while elevating living standards among the poor. The professors first presented their ideas about "the bottom of the pyramid" — a reference to the 4 billion people, living mostly in Africa, Asia, and Latin America, with per capita incomes of less than US$1,400 a year — in strategy+business. (See "The Fortune at the Bottom of the Pyramid," by C.K. Prahalad and Stuart L. Hart, s+b, First Quarter 2002.) They present this concept as an approach to corporate strategy. (See "Sailing Beyond Luck," by Chuck Lucier and Jan Dyer, s+b, Winter 2005.)
Professor Hart is a leading scholar and innovator in strategy and corporate environmentalism. He was the founder of the University of Michigan's first program in corporate environmental management, and later started the Center for Sustainable Enterprise at the Flagler School of Management at the University of North Carolina. In 2003, he assumed his current position at Cornell as the S.C. Johnson Professor of Sustainable Global Enterprise.
Capitalism at the Crossroads is a generally well-written and well-argued collection of ideas developed over several decades of research on the promise of what Professor Hart calls the sustainable global enterprise — "a new private sector–based approach to development that creates profitable businesses that simultaneously raise the quality of life for the world's poor, respect cultural diversity, and conserve the ecological integrity of the planet for future generations."