Best Business Books 2005: Index
(originally published by Booz & Company)

Illustrations by Leigh Wells
Everything Bad Is Good for You: How Today's Popular Culture Is Actually Making Us Smarter
by Steven Johnson
(Riverhead, 2005)
Click here to purchase this book
In the Bubble: Designing in a Complex World
by John Thackara
(MIT Press, 2005)
Click here to purchase this book
The Long Emergency: Surviving the Converging Catastrophes of the Twenty-First Century
by James Howard Kunstler
(Atlantic Monthly Press, 2005)
Click here to purchase this book
Massive Change
by Bruce Mau and the Institute Without Boundaries
(Phaidon Press, 2004)
Click here to purchase this book
Radical Evolution: The Promise and Peril of Enhancing Our Minds, Our Bodies — and What It Means To Be Human
by Joel Garreau
(Doubleday, 2005)
Click here to purchase this book
A Whole New Mind: Moving from the Information Age to the Conceptual Age
by Daniel H. Pink
(Riverhead, 2005)
Click here to purchase this book
The World Is Flat: A Brief History of the Twenty-First Century
by Thomas L. Friedman
(Farrar, Straus and Giroux, 2005)
Click here to purchase this book


Blue Ocean Strategy: How to Create Uncontested Market Space and Make the Competition Irrelevant
by W. Chan Kim and Renée Mauborgne
(Harvard Business School Press, 2005)
Click here to purchase this book
The Fortune at the Bottom of the Pyramid: Eradicating Poverty Through Profits
by C.K. Prahalad
(Wharton School Publishing, 2005)
Click here to purchase this book
MarketBusters: 40 Strategic Moves That Drive Exceptional Business Growth
by Rita Gunther McGrath and Ian C. MacMillan
(Harvard Business School Press, 2005)
Click here to purchase this book


Capitalism at the Crossroads: The Unlimited Business Opportunities in Solving the World's Most Difficult Problems
by Stuart L. Hart
(Wharton School Publishing, 2005)
Click here to purchase this book
Confessions of an Economic Hit Man
by John Perkins
(Berrett-Koehler, 2004)
Click here to purchase this book
The End of Poverty: Economic Possibilities for Our Time
by Jeffrey D. Sachs
(Penguin Press, 2005)
Click here to purchase this book
The Fortune at the Bottom of the Pyramid: Eradicating Poverty Through Profits
by C.K. Prahalad
(Wharton School Publishing, 2005)
Click here to purchase this book
The Travels of a T-Shirt in the Global Economy: An Economist Examines the Markets, Power, and Politics of World Trade
by Pietra Rivoli
(John Wiley & Sons, 2005)
Click here to purchase this book


Blood on the Street: The Sensational Inside Story of How Wall Street Analysts Duped a Generation of Investors
by Charles Gasparino
(Free Press, 2005)
Click here to purchase this book
Conspiracy of Fools: A True Story
by Kurt Eichenwald
(Broadway Books, 2005)
Click here to purchase this book
Ponzi's Scheme: The True Story of a Financial Legend
by Mitchell Zuckoff
(Random House, 2005)
Click here to purchase this book
Will Your Next Mistake Be Fatal? Avoiding the Chain of Mistakes That Can Destroy Your Organization
by Robert E. Mittelstaedt Jr.
(Wharton School Publishing, 2005)
Click here to purchase this book
Winning
by Jack Welch with Suzy Welch
(HarperBusiness, 2005)
Click here to purchase this book


Creating the Good Life: Applying Aristotle's Wisdom to Find Meaning and Happiness
by James O'Toole
(Rodale, 2005)
Click here to purchase this book
In Praise of Slowness: How a Worldwide Movement Is Challenging the Cult of Speed
by Carl Honoré
(Harper San Francisco, 2004)
Click here to purchase this book
The Time Divide: Work, Family, and Gender Inequality
by Jerry A. Jacobs and Kathleen Gerson
(Harvard University Press, 2004)
Click here to purchase this book
Time Off for Good Behavior: How Hardworking Women Can Take a Break and Change Their Lives
by Mary Lou Quinlan
(Broadway Books, 2005)
Click here to purchase this book


All Marketers Are Liars: The Power of Telling Authentic Stories in a Low-Trust World
by Seth Godin
(Portfolio, 2005)
Click here to purchase this book
Brand Hijack: Marketing without Marketing
by Alex Wipperfürth
(Portfolio, 2005)
Click here to purchase this book
How Customers Think: Essential Insights into the Mind of the Market
by Gerald Zaltman
(Harvard Business School Press, 2003)
Click here to purchase this book
ProfitBrand: How to Increase the Profitability, Accountability & Sustainability of Brands
by Nick Wreden
(Kogan Page, 2005)
Click here to purchase this book


Hard News: The Scandals at The New York Times and Their Meaning for American Media
by Seth Mnookin
(Random House, 2004)
Click here to purchase this book


Coach: Lessons on the Game of Life
by Michael Lewis
(W.W. Norton, 2005)
Click here to purchase this book
Joy at Work: A Revolutionary Approach to Fun on the Job
by Dennis W. Bakke
(PVG, 2005)
Click here to purchase this book
Lessons on Leadership by Terror: Finding Shaka Zulu in the Attic
by Manfred F.R. Kets de Vries
(Edward Elgar, 2004)
Click here to purchase this book
A Life in Leadership: From D-Day to Ground Zero: An Autobiography
by John C. Whitehead
(Basic Books, 2005)
Click here to purchase this book
---
This Year's Books by strategy+business Editors and Contributors
Results: Keep What's Good, Fix What's Wrong, and Unlock Great Performance, by Gary L. Neilson and Bruce A. Pasternack (Crown Business, 2005). Every business has a personality; Results identifies seven, ranging from the "passive-aggressive" organization, in which everyone agrees but nothing changes, to the "resilient" organization, which is flexible, forward looking, successful. The authors identify four building blocks of "organizational DNA" that can be reconfigured for resilience. Mr. Neilson is a senior vice president at Booz Allen Hamilton; Mr. Pasternack is chief executive officer of the Special Olympics and a former senior vice president at Booz Allen.
FT Handbook of Management, by Stuart Crainer and Des Dearlove (Financial Times Prentice Hall, 2004). This 1,120-page compendium of modern management thinking features contributions from experts including W. Edwards Deming, Peter Drucker, Charles Handy, John Kay, Kenichi Ohmae, Michael Porter, and C.K. Prahalad. Mr. Crainer and Mr. Dearlove have each written several management books, and are cofounders of Suntop Media, a worldwide network of writers, editors, and researchers.
CFO Thought Leaders: Advancing the Frontiers of Finance, edited by Rob Norton (strategy+business Books, 2005). Chief financial officers at 17 of the world's most successful companies — including Bertelsmann, Caterpillar, FedEx, Procter & Gamble, and Renault — speak candidly about competition, regulation, risk, and the changing nature of finance in this s+b reader. Mr. Norton is a former executive editor of Fortune magazine.
Results-Driven Marketing: A Guide to Growth and Profits, edited by Des Dearlove (strategy+business Books, 2005). A collection of articles by senior marketing and sales experts at Booz Allen Hamilton, this s+b reader examines the eight links of the marketing value chain, from "connecting with markets" to "organizing for results-driven marketing."
Reprint No. 05409
Recommended stories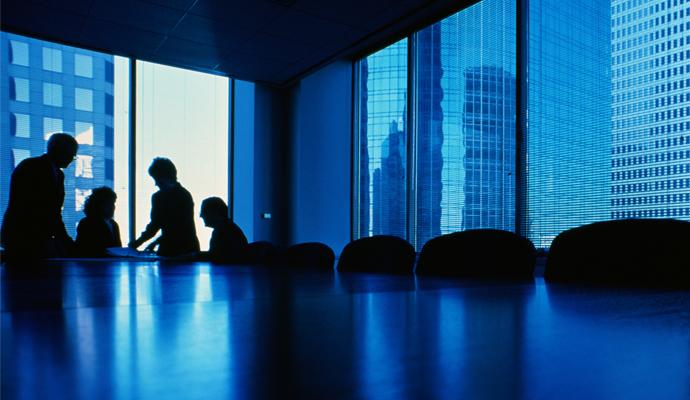 A new book suggests that the ways in which CEOs define the relationship between politics and business will shape our world in the future.