As long as clocks have ticked, people have complained about overwork and lack of time. But employees of the modern downsized, digitized, and driven corporation feel the pain and drain of work — and express their longing for leisure — more than ever, even as they enjoy more perks and protections than their predecessors.
In the business environment of "24/7," global competition, and always-on-call connectivity, all hours are fair game for work. Sure, people can choose to unplug, but it is getting harder to resist the temptation to always be on call. When you can work anytime from anywhere, the long-standing culture of "presenteeism" — a kind of workaholic converse of absenteeism in which people feel compelled to be seen as working even when they're not productive — is magnified.
It is certainly debatable whether time-related stress or life balance problems are really tougher for the corporate knowledge worker in the year 2005 than they were for the Man in the Gray Flannel Suit in the 1950s, or for a mill foreman in the 1850s. Undeniably, though, today's employees, across generations, are looking for more meaning in their work lives and more choices in how they spend the time of their whole lives. This is especially true of women. Recent research shows that seasoned, successful women are opting out of corporate life in ever-greater numbers because they don't want to make the trade-offs their employers demand.
Corporations are trying to respond with so-called work–life balance programs, but these only seem to scratch the surface of the frustration and exhaustion employees are feeling. Perhaps this is because piecemeal measures don't tackle the larger strategic issue: the tension between the financial demands of an enterprise and the need to develop a social contract that recognizes each employee's whole life as valuable. This is a management challenge for both employees and employers. As individuals, employees bear some responsibility for overworking and being overwhelmed. Still, there's plenty of room for improvement in the way corporations set the tone, pace, and expectations for workers — both for outstanding performers who are disinclined, or unable, to have their jobs subsume their lives, and for those people whose contributions are diminished by overwork.
Four good books, published in 2004 and 2005, address the problem by raising a deeper set of questions. First, what is the best possible way to love, work, think, and grow old? Second, for those of us who must work for a living, how can our employers best support satisfying ways of living and still remain competitive?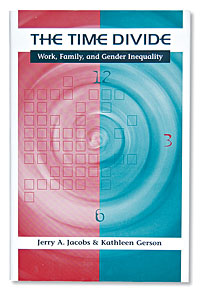 From a variety of perspectives, each book examines the way we live when we aren't working and how this affects what we accomplish when we are. The first — The Time Divide: Work, Family, and Gender Inequality (Harvard University Press, 2004), by sociologists Jerry A. Jacobs and Kathleen Gerson — presents insightful, data-rich research on stress in the American workplace and how corporations contribute to it. The other three represent more personal approaches to the work–life conundrum. Journalist Carl Honoré's In Praise of Slowness: How a Worldwide Movement Is Challenging the Cult of Speed (Harper San Francisco, 2004) looks at the pleasures that pass us by, and the unhealthy traps we fall into, when life is too hectic. Mary Lou Quinlan, author of Time Off for Good Behavior: How Hardworking Women Can Take a Break and Change Their Lives (Broadway Books, 2005), is a CEO who nearly burned out; her book focuses on the frustrations and aspirations of highly effective female professionals. Creating the Good Life: Applying Aristotle's Wisdom to Find Meaning and Happiness (Rodale, 2005), by organizational behavior expert James O'Toole, seeks answers in Aristotelian philosophy. As unalike as these books are, each leads to a common set of messages: Labor and leisure are symbiotic, happiness and productivity are linked, and workaholism doesn't necessarily benefit the bottom line.