Perhaps one cause of their durability is that cities are the most constantly changing of organizations. In Europe, cities replace 2 to 3 percent per year of their material fabric (buildings, roads, and other construction) by demolishing and rebuilding it. This means, in effect, that a wholly new city takes shape every 50 years. In the U.S. and the developing world, that turnover occurs much faster. Yet within all that turnover something about a city remains deeply constant and self-inspiring. Some combination of geography, economics, and cultural identity ensures that even a city destroyed by war (Warsaw, Tokyo) or fire (London, San Francisco) will often be rebuilt.
A hundred years ago, the biggest cities were almost all in the West — London (7 million in 1900), New York, Paris, Berlin. These days there are 428 metropolitan areas with more than a million inhabitants. The top 10 list now reads: Tokyo (34 million), Mexico City, Seoul, New York, São Paulo, Mumbai (formerly Bombay), Delhi, Los Angeles, Jakarta, and Osaka (Japan, 16.7 million). Barging into the top 10 by 2015, according to U.N. demographers, will be Lagos (Nigeria), Dhaka (Bangladesh), and Karachi (Pakistan).
One of the few popular writers studying the phenomenon is Mike Davis, a recipient of a MacArthur "genius" grant who wrote brilliant muckraking analyses of Los Angeles in City of Quartz and Ecology of Fear. Turning his attention to cities in the developing world, he writes in his forthcoming book Planet of Slums (Verso, 2006), "In Africa…the supernova-like growth of a few giant cities like Lagos (from 300,000 in 1950 to 10 million today) has been matched by the transformation of several dozen small towns and oases like Ouagadougou, Nouakchott, Douala, Antananarivo, and Bamako into cities larger than San Francisco or Manchester. In Latin America, where primary cities long monopolized growth, secondary cities like Tijuana, Curitiba, Temuco, Salvador, and Belém are now booming, [in the words of demographers Miguel Villa and Jorge Rodriguez] 'with the fastest growth of all occurring in cities with between 100,000 and 500,000 inhabitants.'" In other words, more and more significant news will be coming from cities most people in the West have not yet heard of.
Demographers talk about "push" and "pull" motivations driving the huge migration to the cities. Push feels like this: Life in your village is dull, backbreaking, impoverished, restricted, exposed, dangerous, and static. In the countryside, you are at the mercy of bad weather, bandits, and disease, with nowhere to go for help. But visit your relative in town and you see what "pull" means. In the city, life is exciting, less grueling, far better paid, free, private, safe, and upwardly mobile. Will you put up with slum conditions for all that? In a heartbeat. "City air makes you free," said the Renaissance Germans. History may view the European Renaissance as mild compared to the change going on now.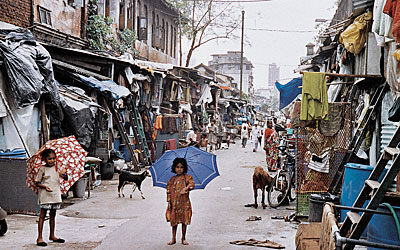 "Pavement dwellers" living in open-air homes in Byculla, a Mumbai neighborhood
Squatter Vibrancy
Let no one romanticize the conditions of slums. New squatter cities usually look like human cesspools and often smell like them. There is usually no infrastructure at all for sanitation, for water, for electricity, or for transportation. Everyone lives in dilapidated shacks jammed together wall to wall, with every room full of people. A typical squatter city, which may stretch for miles, has grown without a plan or government, in an area generally deemed uninhabitable: a swamp, a floodplain, a steep hillside, a municipal dump; clustered in the path of a highway project, squashed up against a railroad line.
But the squatter cities are vibrant. Each narrow street is one long bustling market of food stalls, bars, cafes, hair salons, churches, schools, health clubs, and mini-shops of tools, trinkets, clothes, electronic gadgets, and pirated videos and music. What you see up close is not a despondent populace crushed by poverty but a lot of people busy getting out of poverty as fast as they can.