Though the squatter communities have what the U.N. researchers describe as "cultural movements and levels of solidarity unknown in leafy suburbs," they are seldom politically active outside the defense of their own community interests. Nevertheless, governments sometimes fear their solidarity, and that's why the bulldozers are sent, as in Robert Mugabe's Zimbabwe, to eliminate squatters (thereby helping commit national economic suicide). According to the U.N., three-quarters of all countries with large urban squatter populations have programs to keep people back in the countryside, and all are failing. That is fortunate.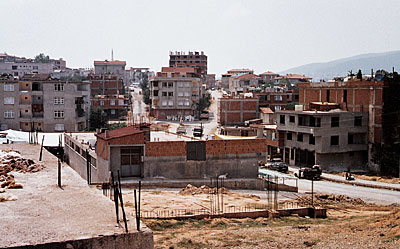 Squatters' homes near Istanbul, Turkey; the rebar allows for expansion
Migrant Boomers
Gradually a consensus is emerging about the economic value of rural-to-urban migration. This migration, "on the whole, acts to alleviate poverty in both the urban and rural sectors," wrote geography professor Ronald Skeldon in 1997. He explained that the urban "informal sector, with its capacity to create an almost infinite variety and number of activities" and its "considerable potential for self-organization…can create a dynamic economy and society."
The 2003 United Nations report on slums is yet more optimistic. The authors estimate that 60 percent of urban employment in the developing world is in the informal sector, and it has essential links to the success of the formal sector: "The screen-printer who provides laundry bags to hotels, the charcoal burner who wheels his cycle up to the copper smelter and delivers sacks of charcoal…the home-based creche to which the managing director delivers her child each morning, the informal builder who adds a security wall around the home of the government minister all indicate the complex networks of linkages between informal and formal."
Unemployment rates, the U.N. report notes, are irrelevant in an economy that is largely informal, "because virtually everyone (including children) is involved in a number of economic activities in order to live, and the conceptual separation of workers and non-workers is meaningless." Also meaningless is the separation of production and consumption when a family's business is home-based. Some workers who have gathered skills and savings in the formal economy use them to set up shop in the informal world: "By adopting the triple role of entrepreneur-capitalist-worker, they can achieve total incomes greater than comparable waged workers in the formal sector," the U.N. report asserts.
Squatters bring rural skills and values to town with them. Building their own shelter is what they've always done, at a minute fraction of the cost of city-provided housing. Collaborating with extended family and neighbors in close proximity is nothing new to them, and neither is doing without elaborate infrastructure.
Social cohesiveness is the crucial factor differentiating "slums of hope" from "slums of despair." This is where CBOs (community-based organizations) and the NGOs (nongovernmental organizations) that support local empowerment play such an important part. Typical CBOs include, according to the 2003 U.N. report, "community theater and leisure groups; sports groups; residents associations or societies; savings and credit groups; child care groups; minority support groups; clubs; advocacy groups; and more.… CBOs as interest associations have filled an institutional vacuum, providing basic services such as communal kitchens, milk for children, income-earning schemes and cooperatives."
Cities have been the wealth engine for civilization since its beginning. Thus the bottom line in the U.N. report: "Cities are so much more successful in promoting new forms of income generation, and it is so much cheaper to provide services in urban areas, that some experts have actually suggested that the only realistic poverty reduction strategy is to get as many people as possible to move to the city."
The role of women in all this cannot be overemphasized. The U.N. report notes that CBOs "are frequently run and controlled by impoverished women and are usually based on self-help principles, though they may receive assistance from NGOs, churches and political parties." One of the major effects of the move from country to city is the unleashing of woman power. Experience shows that microfinance credit works better when provided to women, not men, and women are the more responsible holders of property deeds. The U.N. report summarizes: "In many cases, women are taking the lead in devising survival strategies that are, effectively, the governance structures of the developing world when formal structures have failed them. However, one out of every four countries in the developing world has a constitution or national laws that contain impediments to women owning land and taking mortgages in their own names."