It is so important to free up newly urbanized women from their traditional role as fetchers of water and fuel that the U.N. report dryly recommends, "The provision of water standpipes may be far more effective in enabling women to undertake income-earning activities than the provision of skills training."
The significance of religious groups also cannot be overemphasized. According to Mike Davis, "Populist Islam and Pentecostal Christianity (and in Bombay, the cult of Shivaji) occupy a social space analogous to that of early twentieth-century socialism and anarchism. In Morocco, for instance, where half a million rural emigrants are absorbed into the teeming cities every year, and where half the population is under 25, Islamicist movements like 'Justice and Welfare,' founded by Sheik Abdessalam Yassin, have become the real governments of the slums: organizing night schools, providing legal aid to victims of state abuse, buying medicine for the sick, subsidizing pilgrimages and paying for funerals." He adds that "Pentecostalism is…the first major world religion to have grown up almost entirely in the soil of the modern urban slum" and "since 1970, and largely because of its appeal to slum women and its reputation for being colour-blind, [Pentecostalism] has been growing into what is arguably the largest self-organized movement of urban poor people on the planet."
As the cities of the next 20 years evolve, they will increasingly bargain with the older cities, and with corporations, as equals. What will that bargaining look like?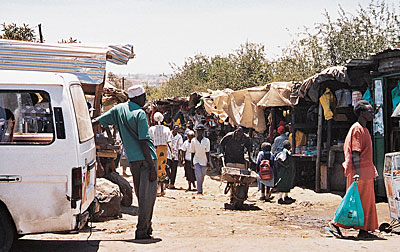 Kibera, a neighborhood of mud huts outside Nairobi, Kenya, where more permanent structures are illegal for squatters
Aspirational Shantytowns
To me the most compelling image of hope in squatter communities is something you see everywhere — masonry and concrete building walls with rebar sticking out of the top. The rebar — reinforcing bars of steel — is there as an anchor for a potential new wall, in the expectation that eventually, when there's enough money, another story will be added to the building. It may provide more living space for the family or another source of rent. The magic ingredient of squatter cities is that they are improved steadily and gradually, increment by increment, by the people living there. Each home is built that way, and so is the whole community.
Another common sight in squatter towns is a network of wires strung everywhere, carrying pirated electricity and cable TV, and pipes snaking in all directions, illegally distributing water. In Brazil, a country with a good reputation for helping squatters, Mr. Neuwirth reports that the cable, power, and water companies decided to stop treating the gatos ("cats," the squatters who siphon off public services) as thieves and instead treated them as people trying to become customers. Working with the communities, sometimes through nonprofit organizations, they are gradually improving the infrastructure and building revenue in cahoots with a particularly entrepreneurial new customer base.
Over time, usually decades, squatter cities become real cities, part of the formal economy. Mr. Neuwirth points out that all of the world's present major cities began as disreputable shantytowns. Step-by-step, the new towns will join the global economy that caused them in the first place. It was the industrialization of agriculture for global markets that reduced the rural jobs. Global corporations often provide the best-paying jobs and best working conditions in town, raising the standard for everyone. Global NGOs, having learned to distrust national governments, go straight to the burgeoning new cities, where the neediest can be served most directly. The "agglomeration economies" that make cities wealth producers are accelerated, and in turn they speed the global economy.
It's easy to gloss over the enormous variety among the thousands of emerging cities with different cultures, nations, metropolitan areas, and neighborhoods. From that variety is emerging an understanding of best and worst governmental practices — best, for example, in Turkey, which offers a standard method for new squatter cities to form; worst, for example, in Kenya, which actively prevents squatters from improving their homes. Every country provides a different example. Consider the extraordinary accomplishment of China, which has admitted 300 million people to its cities in the last 50 years without shantytowns forming, and expects another 300 million to come.