The six things that lean consumers demand are: solve my problem completely, don't waste my time, provide exactly what I want, deliver value where I want it, supply value when I want it, and reduce the number of decisions I must make to solve my problems. The authors dub the challenge of meeting these demands "lean provision," and they devote a chapter to each of them. They start by "mapping" what should be a simple task, getting one's automobile repaired, to show how much time is wasted. An average visit to the auto repair shop, they report, takes three and a half hours, more than 70 percent of which (nearly two and a half hours) creates no value at all to the customer. By the time Dr. Womack and Mr. Jones have finished tweaking the lean version of the process, the total time consumed has been reduced to one and a quarter hours, of which only 30 percent (just over 20 minutes) is wasted.
Sometimes lean solutions seem to flout conventional wisdom. For instance, many firms tacitly assume that the customer's time is "free" and try to minimize the firm's hourly costs by staffing help desks with cheap, unskilled labor. The result is that consumers often spend a good deal of their time searching for answers to their problems. The lean solution is to inject intelligent feedback into the situation by putting relatively expensive, well-trained people into the first line of respondents, where the customer's problem can be either solved or correctly directed after just one encounter. Fujitsu Services is an example of one company that has thrived by organizing help desks in this way.
Companies that pursue lean solutions can segment their markets creatively, moving beyond segmentation into rigid product and demographic categories. For example, Tesco, the incredibly successful British supermarket chain, found that the same customers are prepared to buy the same products at a wide range of price points, depending on the circumstances and context in which a shopping decision is made. Tesco has used this information in combination with state-of-the-art supply chain management to present itself to its consumers in four different store formats. Traditional Tesco supermarkets are now complemented by large "Tesco Extra" stores on suburban perimeters, where they compete with Wal-Mart–type "big box" stores. There are smaller "Tesco Metro" stores on fancy, city-center shopping streets, and even smaller "Tesco Express" convenience stores in gas stations and at busy intersections. All the formats, including the online service Tesco.com, have different pricing, but are supported by the same lean logistics system.
Many of the service scenarios discussed in this well-written, provocative book may never come to pass, but Dr. Womack and Mr. Jones have given managers a whole new way of thinking through the opportunities that lie ahead.

---
10 Rules for Strategic Innovators: From Idea to Execution

By Vijay Govindarajan and
Chris Trimble
Harvard Business School Press, 2005
252 pages, $29.95
---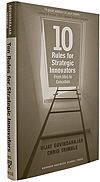 Successful firms have to perform two broad sets of activities that are often antagonistic toward each other. On the one hand, they have to offer reliable products and services at reasonable prices; on the other hand, they have to innovate continually to develop new customer offerings. Management theorists usually call these two dynamics "exploitation" and "exploration," and the debate about their true nature and the relationship between them is a hot topic in the academic world.
Now Vijay Govindarajan, professor of international business at the Tuck School of Business at Dartmouth College, and Chris Trimble, a consultant and adjunct associate professor at Dartmouth, have written a book that deals with the challenge that strategic innovation (their phrase for "exploration") poses for mature firms, which are often happier exploiting their existing competencies than developing new ones. Strategic innovations always involve the discovery and development of new, unproven business models, although these new models are not necessarily disruptive to a firm's existing business. Using research on more than 30 companies and interviews with dozens of executives, the authors frame the dialectic between exploration and exploitation as a tension between "CoreCo," the established business, and "NewCo," the strategic experiment. To be successful, NewCo must overcome three challenges: It must forget some elements of CoreCo's business, it must borrow others, and it must learn from its own experiences. In the process, NewCo must develop a different organizational DNA (staff, structure, system, culture).